I have been asked a lot of detailed flavour questions regarding Crio Brü over the last little while, so whilst you can get a lot of info from the website itself, I thought I would make it clear and simple for you right here, based on flavour. If health benefits are what you are interested in, then head on over HERE. But for flavour tips as to what may suit your palate the best, stick around.
There are lots of other bloggers out there writing amazing recipes using this healthy brewed chocolate, but if you have been under a rock or are completely new to my website, you will not know that the best weight loss, appetite suppressant, yummy drink of choice is a brewed pure chocolate, which I also use as a frequent ingredient, both as a brewed liquid or straight from the pack, in my recipes and cookbooks.
The short but concise version for flavour choices are as follows;
Cavalla; Cavalla is the flagship Crio Brü flavour. The country of origin is the Ivory Coast. It has notes of coconut and cinnamon which are other crops grown in the region. Delish with a dash of both ground cinnamon and coconut cream, maple syrup, honey or other natural sweetener of choice. Quite mild, and very fragrant. A great starting place for the newbie to Crio Brü.
Cavalla Dark Roast; Dark Roast is the Cavalla beans, just roasted a little longer until there are some lovely dark smoky overtones. Great for coffee lovers who are trying to reduce their coffee intake. Not coffee flavoured, but not as 'chocolatey' as the other flavours. Excellent as a Crio Latte, brewed in milk and then frothed….yum.
Coca River; The beans for Coca River are from Ecuador. The notes that are prominent are green banana, blueberries and jasmine. I would place the flavour profile of Coca River as the most chocolatey of the Crio Brü family of flavours. It is amazing on it's own, but so much more traditionally chocolate with a little cream, and with or without sweetener of choice. I don't want to cause a stampede to the website, but this one seems to have the best weight loss properties.
Vega Real; They say that true chocoholics love dark chocolate. So I think my passion for Vega Real must make me a true chocoholic. It originates from Dominican Republic. It has subtle notes of strawberries and citrus. I would place this into the true dark chocolate family, so if you love 60% chocolate or darker, this is the flavour for you. It is also excellent in recipes as the chocolate flavour is more apparent when it is added to other ingredients than say, Cavalla…which is mild enough not to make a statement of its own in a recipe.
Maracaibo; Venezuela is known amongst chocolatiers world wide for producing the most delicious chocolate beans on the planet, so it is no surprise to learn that this flavour has found quick popularity amongst the Crio Crazed fans out there. I am no exception and love its subtle mildness, yet depth of flavour on the palate. With notes of cherry and finishing with a nutty caramel flavour, I would only use this for drinking as it is so subtle that would be a shame to lose that by putting it into a recipe where possibly other flavours would overpower its natural yumminess!
Choc Mint; Probably only available for the winter months, this Crio Brü has premium organic peppermint tea blended with the chocolate so that when you brew it you have a lovely minty after taste. Wonderful for an after dinner treat, but certainly invigorating for first thing in the morning and a great way to start your day.
All cacao beans used in Crio Brü are grown using organic farming practices and all plantation owners are paid above fair trade prices, for those of you who need to know! There are many more varieties on their way, plus some Raw Crio Brü, which doesn't taste like chocolate at all, rather more fruity and sweet. And don't start me on the Crio Beans! (Cacao beans that are roasted, then dipped in a wonderful dairy free Belgian chocolate…the best healthy snack around!)
Top 10 Recipes
SO…to the Top Ten recipes I have on here using Crio Brü. These are based on my analytic statistics…and coming in at Number One is…
POWER BALLS This recipe is so popular that I have actually included in my New Book, soon to be named, edited and printed…
Number Two
CRIO BRU CHOC POTS A little sneaky one, that will totally have you reaching for another one…so make them small…for your own safety!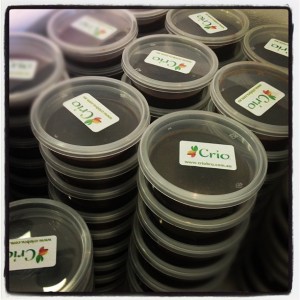 Number Three
MEXICAN CHOCOLATE TABLET, Mexican Chocolate with Roasted Almonds and Pink salt. Very rustic and very more-ish, I have it on good authority that there those amongst you who cannot resist making and re-making this little treat. If it is any comfort, there are lots of good nutrients that are not destroyed in the process of making these. (So go ahead, have another piece!)
Number Four
SLOW COOKED BEEF CHILLI Whoa! Beef and chocolate??? Don't knock it till you try it. I get more congratulatory emails regarding this recipe than most and it is a great way to use up your already brewed and used Crio grounds, so don't go throwing those grounds away….freeze them, and use in this savoury recipe and others…
Number Five
CRIO BRU AVO SPREAD Speaking of left over grounds, try this on for size. It is very delicious, a dairy free guacamole if you like and totally more-ish.
Number Six
CRIO BRU TRUFFLES WELL….Crio Brü is pure, true chocolate! And what more fitting thing to do with chocolate than a truffle?? And wait for it…these are required…yes, required, for the next recipe. (Oh what an excuse!)
Number Seven
MOLTEN CHOCOLATE PUDDINGS These are totally delicious…not going to lie. If I wasn't always testing other recipes for you…I would probably be onto these every weekend. If you have ever failed at a chocolate fondant, fail no more. This is the simple easy version….enjoy. (And don't say I never give you anything!)
Number Eight
CRIO BRU GANACHE BANANA TART I love a good ganache, and this one is quite interesting in that instead of melting chocolate in cream, you can melt chocolate in brewed Crio and get a silky smooth ganache that is dairy free. It does take longer to set than traditional ganache, but is completely worth the wait. FYI mostpremium chocolate over 70% is most often dairy free…(or should be!)
Number Nine
CRIO BRU CHOCOLATE CRACKLE SLICE Remember the good ole days with Chocolate Crackles at the school canteen?? (Or at the school fete?) Well in a fit of nostalgia for my long gone school days and after seeing a recipe on Natural New Age mums website, I did this version in an effort to get my beloved Crio Brü into yet another recipe. AND it worked a treat. A real healthy treat!
Number Ten
CRIO BRU CHERRY FRUIT 'TOAST' I love raisin toast, and this is my oh so much yummier take on raisin toast, with a little chocolate in the form of Crio thrown in for good measure. You will not stop with just one piece of this yeasty homely breakfast, morning tea, after school, before bedtime…and serve it with, what else? A nice warm cuppa Crio of choice.
Thus ends my little list. I am pretty sure there could have been a Top Twenty List, but maybe I'll save that for another post…in the far distant future. In the meantime, let me know what your favourite Crio Brü flavour is. And if you haven't already joined them on Facebook, go do it so you can keep up with the new flavours and discount offers as they happen.