The Wedding of the Year!
Well finally I have recovered and am getting on here to share all the excitement. On January 12th this year, my daughter Courtleigh, married her sweetheart Cameron and in the lead up I nearly lost the plot on a couple of occasions, but thanks to some amazing people, I survived! The wedding went off without a hitch (except one which shall be revealed in the telling) and they are now Mr and Mrs and all is bliss. I will list all the contacts at the bottom of this article for you to use at will. I couldn't have done it without these amazing and wonderful people and businesses. Thanks to them all.Because of all of my lovely friends offering to help, we did have a lot of fun with the reception which had a Country Fair theme to it…so let me elaborate with some gorgeous pics and just a few words.
All pictures were taken by the very talented Brook from Dezire Studios who we have used for many things now, including one son's wedding, family portraits and the 2012 Thermomix Calender. For more info on how to book him for the best family portraits you will ever have, go to his website and send him an email. He does travel Australia wide for bookings.
We started with the quirky venue of Taylor's Art and Coffee House in the Swan Valley who arguably have the best breakfast in the wild wild West.
Highly recommended. Because of the already country feel to the venue, we didn't have to do anything major other than spruce it up a bit. We added some hay bales around the dance floor, and my amazing friend Fleur set me to work making bunting out of lace doilies and white ribbon, (thank you Singapore Aunty Deb for the doilies and ribbon)!
Fleur is a visual merchandiser as well as Mrs Azzura Gelati and so we used her fantastic Miss Tartufo ice cream van as well as her amazing collection of doilies, glassware, flowers, candles, blackboards, quirky furnishings etc to get us in the mood.
Once again, my thanks to:
Brook Desmond of Dezire Studios for all the stunning pics.
Fleur of Azzura Gelati and Miss Tartufo Ice Cream Van for the beautiful styling and delicious ice cream and sorbets.
Marnee Rinaldi of Made by Marnee for THE. MOST. AMAZING. CAKE. EVER. Please don't hesitate to make her busier than ever, not only beautiful to look at, but incredible to eat!
Rambling Girl (Lisa) for the gorgeous flowers. She can be contacted by emailing rambling.girl@westnet.com.au
Bernard from Margaret River Beverages for delivering to my door (apart from the amazing drinks!!)
Michael and his team at Taylors Art and Coffee House for the fun venue and invaluable help.
Robbie T the best magician in Australia for his amazing entertainment…do yourself a favour and get him for your next function.
WA Spit Roast for an outstanding meal with happy service.
Top Shelf Concepts for the eco friendly disposable cutlery and plates.
Floss'N'Pop for the Popcorn and Fairy Floss.
The Ice Cream, Fairy Floss and Popcorn girls; Dana, Natarsha, Emily and Brittany.
All the family members who pitched in…and the WA FESA who managed to put the Swan Valley bushfire out just in time for the guests to arrive. Roads were blocked for me and set up crew…but happy days, the reception did not stop! In true dramatic tradition, the Show Must Go on and it did!!
The Fairy FlossMachine The Entry Arch After the marriage
Margaret River Soda Company to the drinks rescue!
Lanterns light the dance floor and the people on the crazy dance floor.
Miss Tartufo.
Sparklers light their way.
Husband and Wife.
The money shot! Love it Brook.
Fleur's creations and flowers and candles done her style.
You'd think I loved that cake!!
Our strolling magician, Robbie T.
The bridal bouquets by Rambling Girl. Archway detail, thanks Fleur.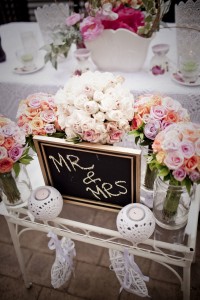 Lantern detail.
Lanterns light up the dance floor.
Table top flowers.
The Happy Couple.
More from News & Events
Our Black Thermomix winner.
Thermomix and Drop Partner!
Should You Upgrade to the Thermomix 6? My Review.
Tenina Holder
Tenina Holder is a wife, mother of five and grandmother of six, who started cooking in the olden days before Thermomix was even a thing.
Tenina has become the premium go to source for all Thermomix expertise and of course fresh and easy recipes that work. Her cooking classes and foodie trips are sold out in literally hours, her cookbooks appear on the Australian best seller lists and her social reach is in the millions. Her Insider Club is the most fun you can have with a Thermomix and you really should join her! She believes chocolate, butter and salt are health foods. Her food positivity mantra is, eat everything, just not all at once!

Read More
TWENTY EIGHT WAYS TO USE AMAZING BUTTER
Ten Feel Better Soups to Soothe and Heal
The Food of St. Patrick's Day
The Art of Cooking with Essential Oils
The Christmas Cookie Edit
Our guide to gifting
Our Macaron Madness
Our Top Ten Fruity but Savoury Salads!
The Ultimate Guide to our Ultimate Guides!
Topics
Latest Recipes
Passionfruit Frosty Fruits
Spinach and Ricotta Rotolo