We are the leading online platform for all Thermomix models and other thermal blenders on the market today.
Join Tenina Holder and her amazing professional guest list as you laugh your way through hundreds of video tutorials while you learn amazing techniques, handy tips for better, easier cooking and downloadable ebooks and recipes. You could even become a video guest yourself!

With your full subscription you have access to;
Hundreds of cooking tutorial videos
New Insider only recipes
Exclusive online menu builder
Dozens of ebooks added to monthly
Monthly discounts from all our favourite partner companies
Competitions with great prizes
Foodie Trips plus more

Whether you are brand new or experienced in the kitchen, we want to inspire you to create and enjoy real food more often and with more success and more food positivity.
We are here to make your isolation happier!
*Our recipes are suitable for all Thermomix models as well as other Thermo Cooker brands on the market.

Rachel Iry; I love being part of the INSIDER CLUB as I truly believe I get more than I pay for. It's absolutely value for money and quality.

Join nowOnly AUD $97.00 a year
That's less than $2 a week!
Our latest e-projects are FREE with IC membership!
Our newest addition to the IC ebook library has been a long time coming. We have been chatting with the publisher for some time about including For Food's Sake as part of the e-library and yay...he has agreed. You will get it FREE as part of the Insider Club. If you purchase the hardcover book, you will also get a copy. These are literally the only two ways to get your hands on the e-version of this Aussie best selling cookbook. Full of great recipes that will keep you inspired and well fed, you will love having this as part of your digital Thermomix library.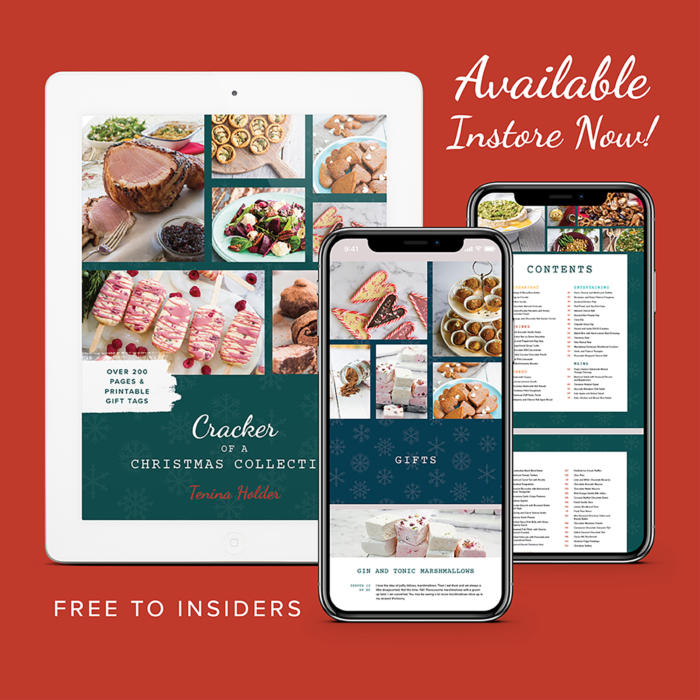 FREE CRACKER OF A CHRISTMAS EBOOK all year round!
Valued at over $55 itself, with 200+ pages) this beautiful ebook is full of fantastic recipes, inspirational pictures and plenty of Santa's helpers hints and tips along the way. Cracker of a Christmas is your bible for all things festive! AND it's yours for FREE with Insider Club Membership!
Cooking Class Recipe booklets
These booklets are exclusive to the IC membership. Full of amazing recipes not seen anywhere else! Yours when you join us!
Tenina's Killer Collection
Cooking with Tenina cookbook class
Currying Flavour
Comforting Comfort Foods
Celebrate and Bake
Thai Thai Again cooking class
Mexican Fiesta Cooking class
For Foods Sake cooking class
The Doterra Cooking class
Sneaky Peek at Tenina's America launch booklet
Cook Once Eat Twice cooking class
Lia Healy; 'I have nothing holistic or new age healthy to say... just that when I want something sinfully, mind blowingly delicious - Tenina is my homegirl and the Insider Club gives me ALL the recipes. I've lost zero kilos, but my heart is full of chocolatey, ice creamy, pasta-y goodness. Best money I've ever spent.'
Judy Gabriel; 'Love that you are yourself. I went to a class in Canberra and thought wow what a great lady. She is someone to admire as she knows what she is talking about and she is a lot of fun. Many laughs 😘'
Tutorial Videos and Classes
Online Recipe Videos
The very best part of the whole Insider Club is the amazing video class collection. We add new video content every month, with great methods being demonstrated such as pastry laminating, kimchi fermenting, chocolate tempering, meringue whispering and plenty more. Our list of videos will just get longer and longer each month. (And we will take recipe requests!!)
We have literally 100's of videos on offer and more added all the time, 'Tenina Thermomix TV' is just getting better and better. We are hosting guest chefs and experts and you can even get in on the action with the newest Come Raid My Fridge series. Tenina will rock up at your house and cook a three course meal with whatever you have in the fridge and pantry. While we film it! It is a LOAD of fun.
Videos include great recipe tutorials, Q and A, focus on ingredients, product reviews and other general Thermomixing advice, hints and tips.
Jennifer Mammen; 'I love the new recipes that are added all the time. Just love the videos especially the bloopers. The Insiders Club is really great value, monthly discounts, videos, ebooks alone is the yearly fee with benefits and more. Highly recommend to join, you wont be disappointed. It's like belonging to the Mafia...all good wicked stuff...love it.'

THE MAGIC 10 COLLECTIONS
The latest from our Test Kitchen are the mini ebooks, just ten great recipes in multiple collections to suit all diets, from Keto, to Plant Based, to Chocolate to Lemon, to Winner Chicken Dinners. We are producing these continually and they are added to Insiders instantly!
Back Catalogue of all existing ebooks! Valued at over $500 and counting!
Part of your Insider library includes all of the existing ebooks that are available (and there are a lot)
RRP over $500 and increasing all the time
What's for Dessert?
What's for Breakfast?
Merry Christmix
Souperbowl
Tenina's Top Twenty Five
Merry Christmix TOO
Nifty But Thrifty
Portable Lunches
Top Twenty Five Mexican Fiesta
Top Twenty Five Ice Cream Recipes
A Very doTERRA Christmix
12 Recipes of Christmix
Choc-A-Block Christmix
Varoma Therapy
Tenina's Killer Collection
Cobram Long Table Lunch
Callebaut Gold Chocolate Recipes
My Thai; Top 25 + Thai recipes
Cracker of a Christmas Collection
FakeAway, Better Than Take Away
The Magic 10; Turmeric Collection
The Magic 10; Gluten Free Collection
The Magic 10; Spicy Collection
The Magic 10; Bread Collection
Go Slower; Thermomix to your Slow Cooker
The Magic 10; Chicken Dinners
The Magic 10; Keto Collection
The Magic 10; Vegetarian Collection
The Magic 10; Chocolate Collection
The Magic 10: Plant Based Collection
The Magic 10; Lemon Collection
Amazing Grazing for the Festive Season
The Magic Ten; Brunch Collection
Heal Your Pantry, Heal Your LIfe; The Challenge
Heal Your Pantry, Heal Your Life; The Recipes
Immunity Mix: Recipes to Help Boost your Immunity
For Food's Sake
Maggie Taylor; 'I'm a member of this fantastic Insider family! What's not to love? Great recipes especially for us, free access to the ebooks, the amazing menu planner, "how to" videos, instant help when needed, fun and laughter every day and excellent discounts each month.....and that's just the tip of the iceberg!! Only it's warmer!!'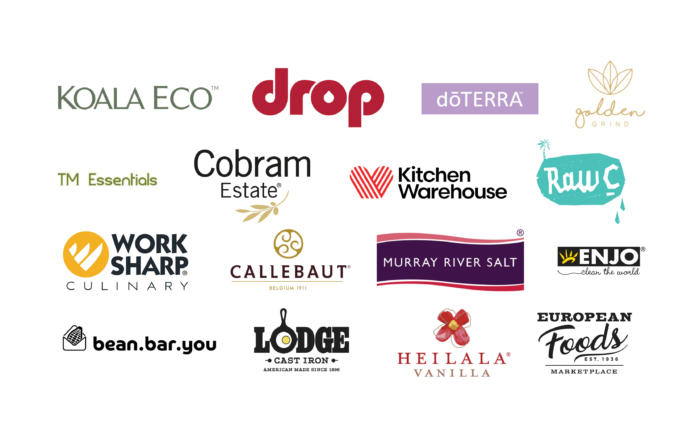 Exclusive Online Discount Offers
We have partnered with some of our favourite Australian online retailers to bring you stuff you love, and stuff we think you'll love, at an Insider only discount. PLUS we have been able to have some fantastic giveaways like trips away to have me cook lunch, or exclusive chocolate, or knife sets. If you are outside Australia, these vouchers may not be available depending on the company's shipping policy. Please read terms and conditions for each offer carefully before use.
Tammy Broad; 'I looove the video exclusives, I've been an owner for years but have learnt so many new tricks and tips from the videos, and the EBooks and discounts are unbelievable value which is a great bonus!'
The Amazing Menu Builder
Make weekly menu planning so simple;
As of November 2019, we have well over 2000 amazing menus, created by users on the Inside! WOW.
One of our favourite features for the Insider Club is the new and exclusive to us, Menu Builder. Create and keep as many menus as you like from all the content on the website. Use this for your weekly family meal planning or to create special occasion menus like 'Tenina's Sunday Family Dinner', or 'Bree is Turning Forty Dinner Party'. Add or remove recipes, save and generate a shopping list for the entire menu at the click of a button. You can also print off all of the recipes in the menu for easy preparation or share your menu with others using the social share buttons.
Tammy Richards-Robinson; 'I love that I get great recipes with a mix that caters to all and includes GF options for me, I love the videos, recipes, the perks but best of all I luv seeing your smiling face .... and quirkiness that goes into the videos ohhh and the camaraderie there is in the group .... great value for great price and free laughs!'

Insider Foodie Trips
We have just returned from our first ever Singapore Foodie Fling. This was an exciting opportunity to visit one of the world's food capitals with someone who knows where to go and what to eat first! I loved taking my peeps on this trip of a lifetime. All the details are in store bit.ly/SingaporeFF Proof that it's not hard to be an Insider! At all!
We have plans for an annual foodie fling, so get in early and start the adventure!
Exclusive Insider Club Recipes
We saved the best for last.
You will not only have unlocked access to all of the existing Insider Club recipes that are already on site, you will receive exclusive new recipes every week that are for Insiders only. YES we are adding NEW RECIPES every week! EVERY. SINGLE. WEEK. Exclusive. Ready to be cooked. With great pics. Add them to your menus. You're welcome.
Of course all Insider Club members will still have access to all of the FREE content that has always been available to Tenina.com users.
If you were lucky enough to take us up on our FREE 14 day trial offer, your subscription will auto renew after free trial period unless cancelled prior.
Elizabeth Davies; 'I love accessing recipes that non members can't and love the discounts...'

What People are Saying about the Insider Club
Narelle
Being in the Insider Club has benefited me by allowing me access to all of Tenina's delicious recipes, including all of her ebooks! I love her wit and the videos are like having a private cooking class in your own home.
Bree
I do not know of any other food expert who makes so much of their material available, both past, present and future. It's great to see something like the Insider Club that means regardless of where in the world you are, you can tune in to exclusive recipes, cooking classes, recipes from classes and video demonstrations of recipes and techniques, partner discounts and much much more. The videos are my favourite so far. No more relying on lengthy 'half baked' metaphors and wordy descriptions on consistency and shape, I can rely on a visual and see it being done. Thanks for taking the celebrity and status out of this game and putting the customer first.
Kelly Rodgers
Serious value - with serious flavour. Tenina delivers the Goods, with her fabulous style - every time! Recipes, discounts, digital cookbooks - there's no better value anywhere else!

Anne-Marie
Insider club is like Narnia but nothing bad happens. Tenina is like Aslan with this culinary wisdom and soul food soothing smile and I'm like Lucy, constantly wide eyed and wide mouthed at what adventure is next. Those on the other side of the cupboard (pantry) can't imagine the delights that are beyond!
Nikki

This is so cool! Suddenly I'm all enthused to menu plan now that someone else is organising them for me. It's like Pinterest for recipes. But no need to hunt through 20,000 random recipes hoping to stumble upon a good one; if it is in the Insider Club you know it's guaranteed to be delicious.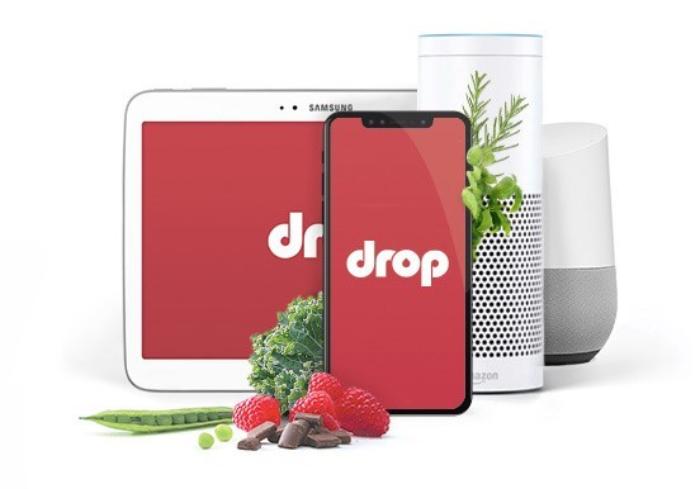 First Access to secret Mixing business!
Our Insiders were lucky enough to test and give us feedback and information on how to improve the very new Drop app! (Thanks Insiders! We love this!) There is always something afoot, and Insiders have first look at it every time!
We are adding a new feature very soon that will be exciting to all who love food enough to create their own recipes. Stay tuned!
Sign up now!
Only AUD $97 a year — that's less than the price of a coffee a week!
Cancel easily at any time.
---