Our Once In a Lifetime Foodie Trips are Legendary!
We can't wait for you to join us on exclusive small group trips where we immerse ourselves in the sights & sounds of varied destinations through food.
You'll enjoy a range of dishes from authentic street food to Michelin-starred & enjoy a hands-on experience too.
Luxury accommodation, unique experiences, fond memories & lifelong friendships are all yours.
Won't you join us?
Testimonial: Should anyone contemplate going on a Foodie Tour with Tenina Holder: just go! Tenina is a fascinating personality with immense knowledge about food and special foodie destinations. She is also very caring and above all, possesses a wicked sense of humour. Rest assured, providing you don't have the personality of a wet fish or flat pancake, you will have an extraordinary, food packed and diverse experience. Bon appetite ! Colette Dixon
Book your place now!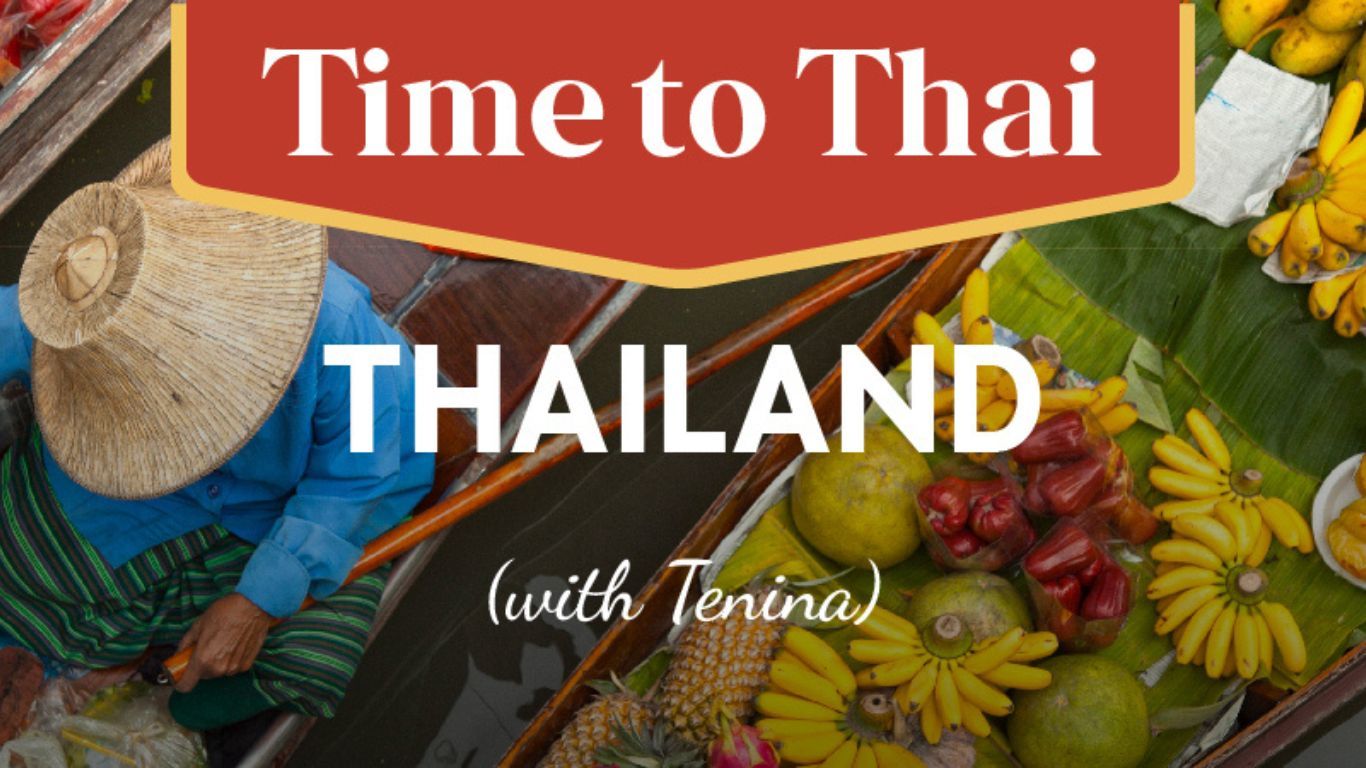 Time to Thai with Tenina. Thailand 4 - 10 October 2023
What you can expect from our Thailand Trip. 4-10 October 2023
This one is for you and is our second Insider Foodie Experience.
We have curated a fantastic Foodie Feast for you in beautiful Bangkok! It is time to discover the cuisine culture of Bangkok with Tenina.

SIX NIGHTS, SEVEN FANTASTIC DAYS, LOADS OF FOOD AND FUN IN ONE OF THE FOODIE CAPITALS OF THE WORLD. A TOTAL OF 16 GUESTS ONLY.

Total cost is pp $5997 TWIN SHARE only (excluding flights) so grab a partner and book your place! If you really plan to travel solo, email me for the supplement add on.

This wonderful six night and seven packed days of foodie experiences with people who all feel the same way about food that you do, will be a trip to remember for a lifetime. We have selected some of the most amazing foodie experiences possible and we will be staying in one of the most beautiful hotels in the world.

Bangkok's food culture is a vibrant tapestry of flavours, influenced by its rich heritage and diverse culinary traditions. From sizzling street food stalls serving up aromatic bowls of steaming noodles to upscale restaurants showcasing delicate royal Thai cuisine, Bangkok offers a gastronomic adventure for every palate. The city's bustling markets, such as the legendary Jodd Fairs Market, are a testament to the vibrant food culture that thrives in Bangkok, where locals and visitors alike can indulge in an array of tantalizing dishes that capture the essence of Thai cuisine.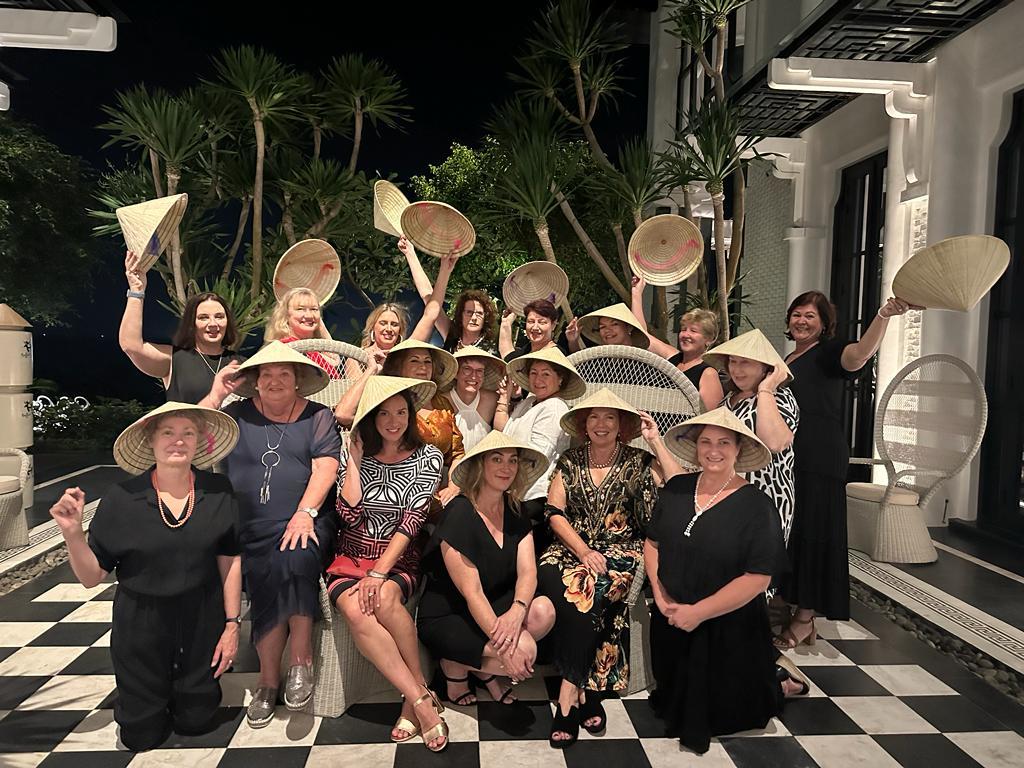 Day 1 - Wed 4 October
At the beginning of the trip, we are staying at the stunning Anantara Riverside resort in this amazing city. Located on the west bank of the Chao Phraya amidst 11 acres of greenery, Anantara Riverside Bangkok Resort offers urban serenity in the centre of crazy Bangkok! Hop on the shuttle boat to connect to the charms of the city. Unwind in the lush sanctuary of Anantara Spa. Enjoy the amazing food or sip a cocktail by the pool.
On our first night in Bangkok, you will step aboard a beautifully restored antique rice barge and set sail on the majestic Chao Phraya River at dusk. Glide past royal palaces, glittering temples and striking landmarks. Dine on fine Thai cuisine, featuring a modern take on Thai classics, and savour refreshing drinks as you watch Bangkok slip peacefully past you. Get to know your fellow travellers this night with our favourite mixing game, two truths and a lie...come prepared! It is hilarious.
Day 2 - Thurs 5 October
We start early the next day with a market tour to collect ingredients for your Blue Elephant Cooking School experience. Cook some of Thailand's famous and favourite dishes in this 5 hour cooking adventure. Blue Elephant's Bangkok outpost is brought to life in a traditional colonial style home with an elegant dining room that fills nightly with out-of-towners and locals here for a special occasion. The century-old Bangkok mansion is listed by Thailand's Fine Arts Department and is absolutely instagrammable at every turn. The Blue bar was my favourite space, though the dining room, where you will eat the fruits of your labours after the class, is also very special.
Later that evening we will be picked up by tuk tuk and guided around the streets of Bangkok to experience the best pad Thai in Bangkok, so good that it has attracted Bib Gourmand attention, to Ice Cream Hot pot, to suckling pig to traditional wedding desserts. The sights, the sounds, the smells of Bangkok food cuisine will charm you (and over feed you!) We will take a little stroll through the overnight flower market, and our final stop is a rooftop bar overlooking the river and the Wat Arun or temple of dawn beautifully lit up and reflecting in the river.
Day 3 - Fri 6 October
Friday morning is also an early start as we head to the Mae Klong and Floating markets. We will sip Thai Iced Tea as we watch the markets along the railway fold up like umbrellas, to allow the train (yes, actual full sized train!!) to pass through. Then we will take a stroll through the markets, they go for miles and there is much to see and taste, and you can purchase some very delicious desserts that are sold on the street, mostly made from coconut products and lots of sugar! We will take a boat ride into the floating markets where you may shop (they expect you to buy something!!) and watch the amazing sights that are everywhere.
Back to your hotel for a chill afternoon, (or go shopping at your leisure, we are in one of the shopping capitals of the world as well, after all!)
That evening prepare for an incredible Michelin starred dining experience at Savelberg restaurant. Thermomix is in high use in this restaurant and we can guess which dishes they use it for! We will experience the 7 course menu which changes seasonally, so it is always new and exciting.
Day 4 - Sat 7 October
Enjoy the next morning at your leisure. Take in some shopping or sightseeing on your own, or chill by the pool but be ready for our pick up to transport you to the best café in Bangkok for high quality chocolates, to create some bespoke chocolates of our own. Learn the ropes of this appetizing art form in a gooey, fun-filled, chocolate cooking class at Chocolab. Be your own artisan and tailor your creations just the way you like them. Are you a dark chocolate person, or prefer white chocolate? A little more milk? A little less sugar? Box them up and take them home!! Following the class we will enjoy a glamorous chocolate high tea, (coffee is extra), can you take my picture please, pass the brulee, ooh what is that?
Your evening is free to spend as you wish visiting one of the many attractions that surround us, shopping, eating, or just chill back at the resort and enjoy the free traditional Thai dancing and cultural show with dinner.

Day 5 - Sun 8 October
Sunday morning, go ahead and have breakfast if you have room, but save a little tummy space for the legendary brunch at the Colonnade
restaurant at the Sukhoti Hotel.
We are also transferring to the MOST stunning boutique hotel in Bangkok, The Siam.
Step into your private urban sanctuary; a stunning, luxury hotel, replete with exquisite art & antiques and set amidst 3 acres of lush gardens on the Chao Phraya River, adjoining Bangkok's must-see historical and cultural attractions. Feel like royalty, be treated like royalty. You will never want to leave. Book into The Opium spa immediately so you can get your included 60 minute treatment in pure luxury organised.
After brunch we will be taking you to Jodd Fairs Night Market, home to over 700 stalls filled with food, homewares, souvenirs, clothing, jewellery, tech items and anything else you can imagine. You could even get your hair done here if you are game! From here you will be make your own way back to the hotel, we suggest you download the Grab app so that there are no surprises when you have to pay! Cash is highly recommended for this market and if you are brave enough to try the skytrain (so cheap) you will also need cash!
If you would rather return to your new hotel after brunch you will have free time to be spent exploring the new hotel and its delights, though we do suggest a quick trip up the river on The Siam water taxi to either Chinatown or Icon Siam one of the most amazing shopping centres you could ever imagine. Make sure you get up to the 7th floor, and check out the Starbucks...it is the largest in Thailand and really worth seeing.
Day 6 - Mon 9 October
Monday after a leisurely breakfast, you have a free day to enjoy the hotel and its amenities, or shop, or sightsee. Our amazing gala dinner will start with a cocktail cruise up the river, followed by an amazing meal to finish off our trip in the very beautiful Storyhouse Restaurant. Come glammed up for our group photo shoot! It is always memorable.

Day 7 - Tues 10 October
Sadly the next morning we will have one last breakfast together before transferring you to your flight or ongoing travel.
What our foodie trip travellers say...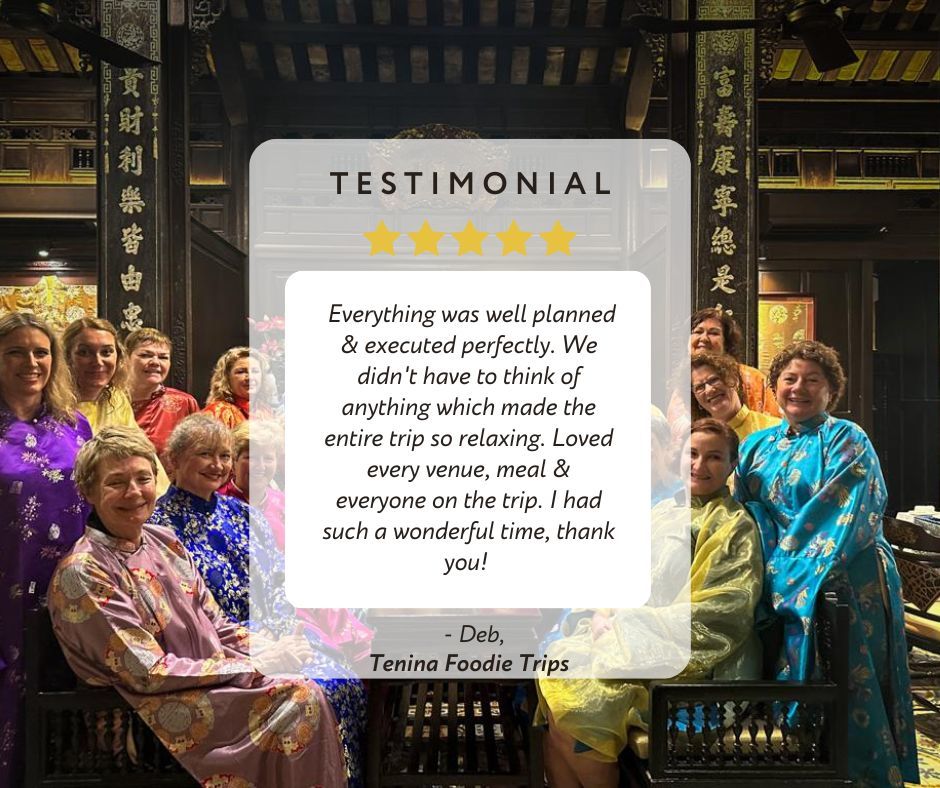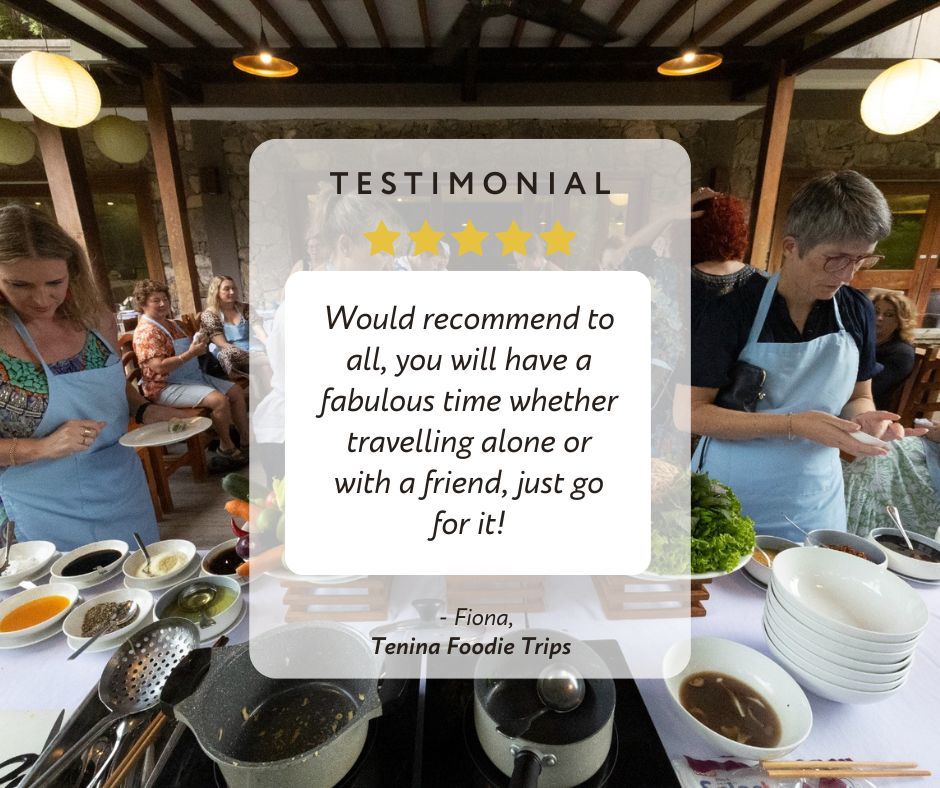 Learn about some of our past foodie trips.
Past foodie trips.
Take a look at some of our past foodie trips. Vietnam will return for 2024.