Magic 10: Summer Salads
"To remember a successful salad is generally to remember a successful dinner; at all events, the perfect dinner necessarily includes the perfect salad." George Ellwanger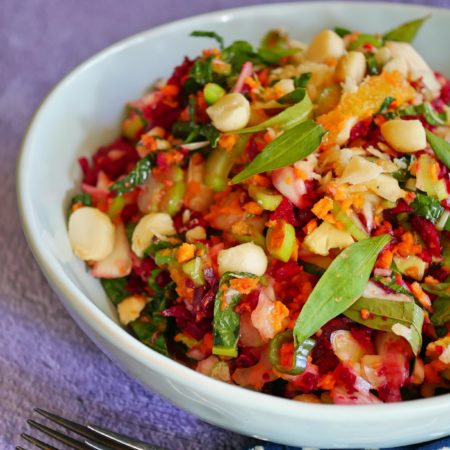 We have all been sitting on a couch for too long, nibbling on yummy snacks and now it is all about to catch up with us as we ditch the winter woollies and dig through drawers to find the swimsuits! YIKES!
Lightening the load doesn't mean lessening the taste and satisfaction. Each of these salads contain some big flavours, a protein hit or a knockout dressing. Summer entertaining is so simple -just pre-prepare your salad and simply cook your protein or even forego the protein for a more simple lunch or dinner. There's classics like Caesar Salad, or classics with a twist like my spin on tabbouleh - featuring kale- of course named Kabbouleh. There's a great slaw ideal for Christmas and a salad inspired by my American University days - Beef Nacho Salad.
It's the top ten of Tenina salads all packaged into a light and bright little ebook. I know you're going to love it.
More from Cookbooks
The Ultimate Guide to our Ultimate Guides!
The Weekend Table - List of edits.
The Weekend Table
Gemma Jungwirth
Read More
Ten Feel Better Soups to Soothe and Heal
The Food of St. Patrick's Day
The Art of Cooking with Essential Oils
The Christmas Cookie Edit
Our guide to gifting
Our Macaron Madness
Our Top Ten Fruity but Savoury Salads!
The Ultimate Guide to our Ultimate Guides!
Our Black Thermomix winner.
Topics
Latest Recipes
Italian Crusted Lamb Roast
Rhubarb, Raspberry and Lemon Puddings