NEW ebook: Top 25 Ice Cream Recipes and more!
NEW ebook: Top 25 Ice Cream Recipes and more!
Not to like ice cream is to show oneself uninterested in food. Joseph Epstein
You are about to find out that happiness is homemade ice cream.

The most exciting thing about February 2017 (besides kids going back to school!) ;) is that we have created a brand new ebook for you! To celebrate the launch of our Ice Cream Store we thought a brand new ebook that highlights just a few of the fantastic ice cream recipes that are already out there plus a whole new batch of frozen deliciousness, would be perfect.
Traditionally February in Australia is one of the hottest months. I have to say the end of January this year in Perth at least has been cold and rainy, but we are looking forward to the return of summer soon. (Sorry if you are in cold northern climates, but you can save these recipes for your summer months, which will be here in a heartbeat anyway!!)
So watch this space, the ebook is available in my store (or if you are an Insider Club member, it has been added to your EBOOKS section of your membership FREE) With nine dairy free options and nearly all recipes gluten free, there is something for everyone!
Here are some of the recipes featured in the book to whet your ice cream eating appetite (you all know you have an ice cream stomach, right?):
NEW RECIPES! Cookie Dough, Rum Raisin & Hokey Pokey Ice Creams

NEW RECIPE! Snickers Ice Cream Sundaes
NEW RECIPE! Jaffa Ice Cream
NEW RECIPE! Dairy Free Vanilla Ice Dream
NEW RECIPE! Pumpkin Pie Ice Cream
And some faves:
Killer Vanilla Meringue Ice Cream (also found in the Cooking with Tenina: More great recipes for the Thermomix cookbook)
Basil Raspberry Sorbet (also found in the 12 Days of Christmix Ebook)
Trio of Ice Cream Sauces; Marshmallow Sauce, Salted Caramel Sauce and Hot Chocolate Fudge Sauce (also found in the Keeping It Simple cookbook)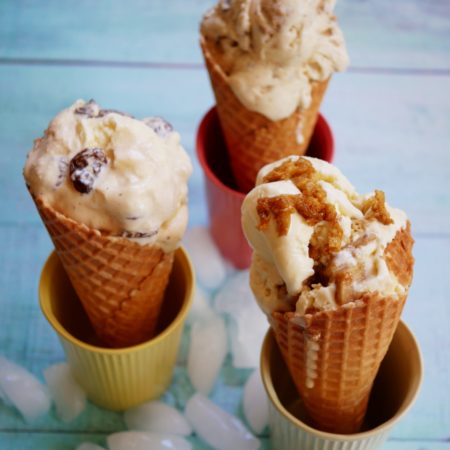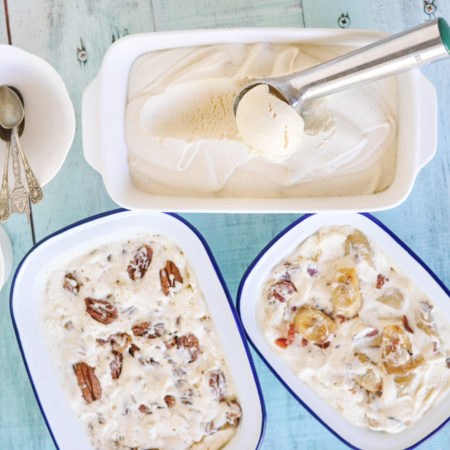 More from Cookbooks
The Ultimate Guide to our Ultimate Guides!
The Weekend Table - List of edits.
The Weekend Table
Tenina Holder
Tenina Holder is a wife, mother of five and grandmother of six, who started cooking in the olden days before Thermomix was even a thing.
Tenina has become the premium go to source for all Thermomix expertise and of course fresh and easy recipes that work. Her cooking classes and foodie trips are sold out in literally hours, her cookbooks appear on the Australian best seller lists and her social reach is in the millions. Her Insider Club is the most fun you can have with a Thermomix and you really should join her! She believes chocolate, butter and salt are health foods. Her food positivity mantra is, eat everything, just not all at once!

Read More
Ten Feel Better Soups to Soothe and Heal
The Food of St. Patrick's Day
The Art of Cooking with Essential Oils
The Christmas Cookie Edit
Our guide to gifting
Our Macaron Madness
Our Top Ten Fruity but Savoury Salads!
The Ultimate Guide to our Ultimate Guides!
Our Black Thermomix winner.
Topics
Latest Recipes
Steamed Bao Buns
EVOO Wholewheat Crackers with Seeds