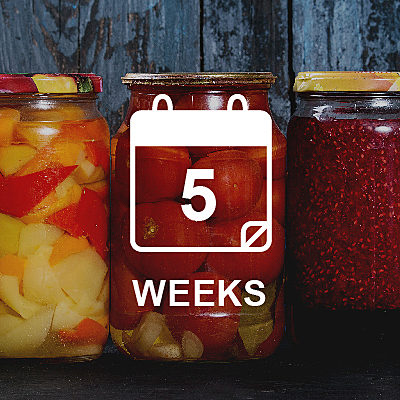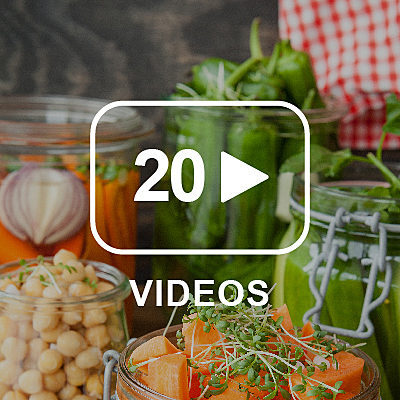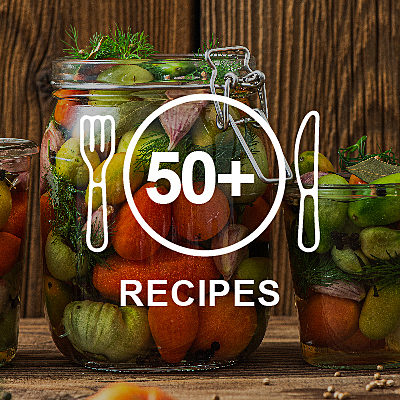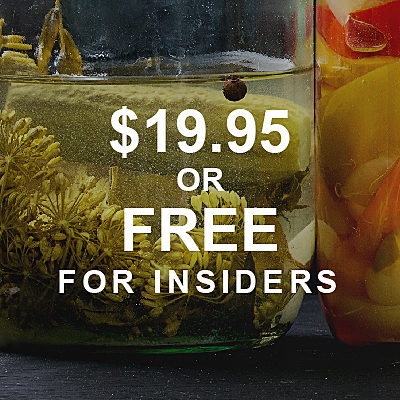 Welcome to the Shelf Control online course!

Having a well-stocked pantry and fridge is like money in the bank. With basic supplies on hand, you'll be equally prepared to put together a family-friendly meal or a last-minute dinner for friends. The trick is figuring out what to stock up on and what you will probably never use. Then naturally, when you are the proud owner of a Thermo appliance, there are literally 100's of everyday items you can make yourself, with zero additives! This course aims to help you sort out your shelf life and gain some Shelf Control!
This course is free to logged in Insider Club members or $19.95 to non-insiders.
To be ready, head over and get our Shelf Control Kitchen Pack. It represents a hefty saving on purchasing the products separately.
---
Get access to the Shelf Control course
Become an insider
Buy the course for $19.95 NOW or join us on the Insider Club TODAY and access this course for absolutely nothing!
Join first
Welcome to the Shelf Control online course!
'Pantry' is an antique word with simple logic: Cooking is simpler and faster when you already have the ingredients. We've identified three levels of pantries amongst our peeps — essential, expanded and expert — so whether you're beginning to cook, stretching toward new flavours or an old hand with wide-ranging tastes, you'll be prepared. Our definition of pantry encompasses refrigerator, freezer and cupboard, so our new definition of pantry, is Shelf Control!
Having a well-stocked pantry and fridge is like money in the bank. With basic supplies on hand, you'll be equally prepared to put together a family-friendly meal or a last-minute dinner for friends. The trick is figuring out what to stock up on and what you will probably never use. Then naturally, when you are the proud owner of a Thermo appliance, there are literally 100's of everyday items you can make yourself, with zero additives! This course aims to help you sort out your shelf life and gain some Shelf Control!
ORGANISING TIPS AND HINTS
Week one; Before you begin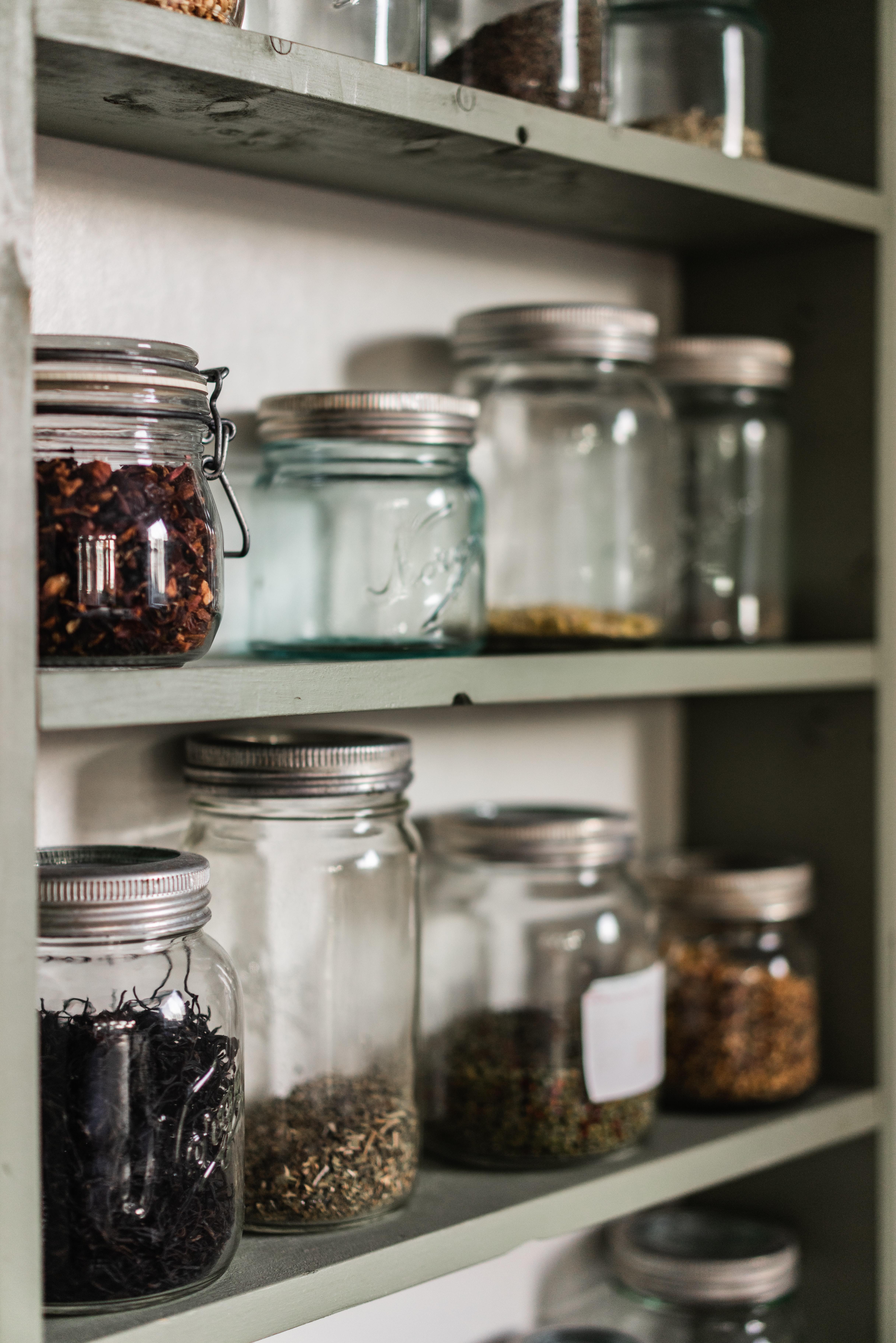 If you can't see it, you're probably not going to use it. A storage space with more shelving is the most efficient configuration for ingredients. Drawers or slide-out shelves also help tremendously with visibility. If I had my dream kitchen, there would only be drawers...no cupboards at all!
Designated spaces. Make sure you have designated spaces for everything you intend to keep in your shelf controlled kitchen. This will help with not over stocking any one item, or running out of things that you use regularly.
Store everything you can in clear containers. Airtight glass or hard plastic ones are best, and available in many shapes, sizes, and systems. Rectangular shapes make the best use of space. (But the glass jars look very rustic and cute!)
Keep a roll of white tape or stickers and some permanent markers in a kitchen drawer. It'll help you make quick labels.
Welcome to Shelf Control
The course that saves you money, organises your pantry and fridge and gives you more time!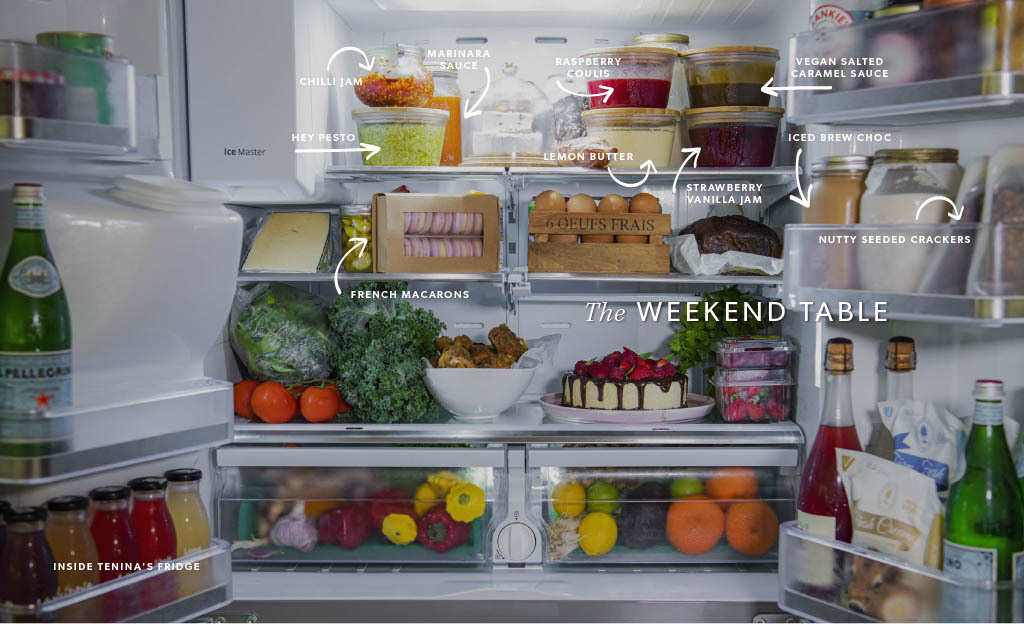 Imagine it is a weekday, the kids all have different sports or music or dancing activities, at different locations after school, and you have had a busy day (as usual). You were late to work, the dog needed to go to the vet unexpectedly, and the orthodontist changed an appointment so you had to pick up one of the kids early to make it there on time. You had fast food last night and have the guilts about doing that two nights in a row...sound familiar? Maybe not all on the same day but...we are all SO busy in our lives one way or another.
SO...luckily for you, you completed the shelf control course a week ago and you have a fully stocked pantry, fridge and freezer. You pull a dinner together at 6.30pm, from all that stored up goodness, the kids are happy, your wallet is happier, you are happy and there are leftovers for work for hubby! Well done. You just experienced Shelf Control.
This course will help you be more organised day to day in the kitchen. It will save you money if you follow it closely and you will feel a load of satisfaction every time you pull something homemade from the pantry/fridge/freezer. Go you. You got this.
Welcome
Get Cleared and Ready!
Week One: Before you Begin!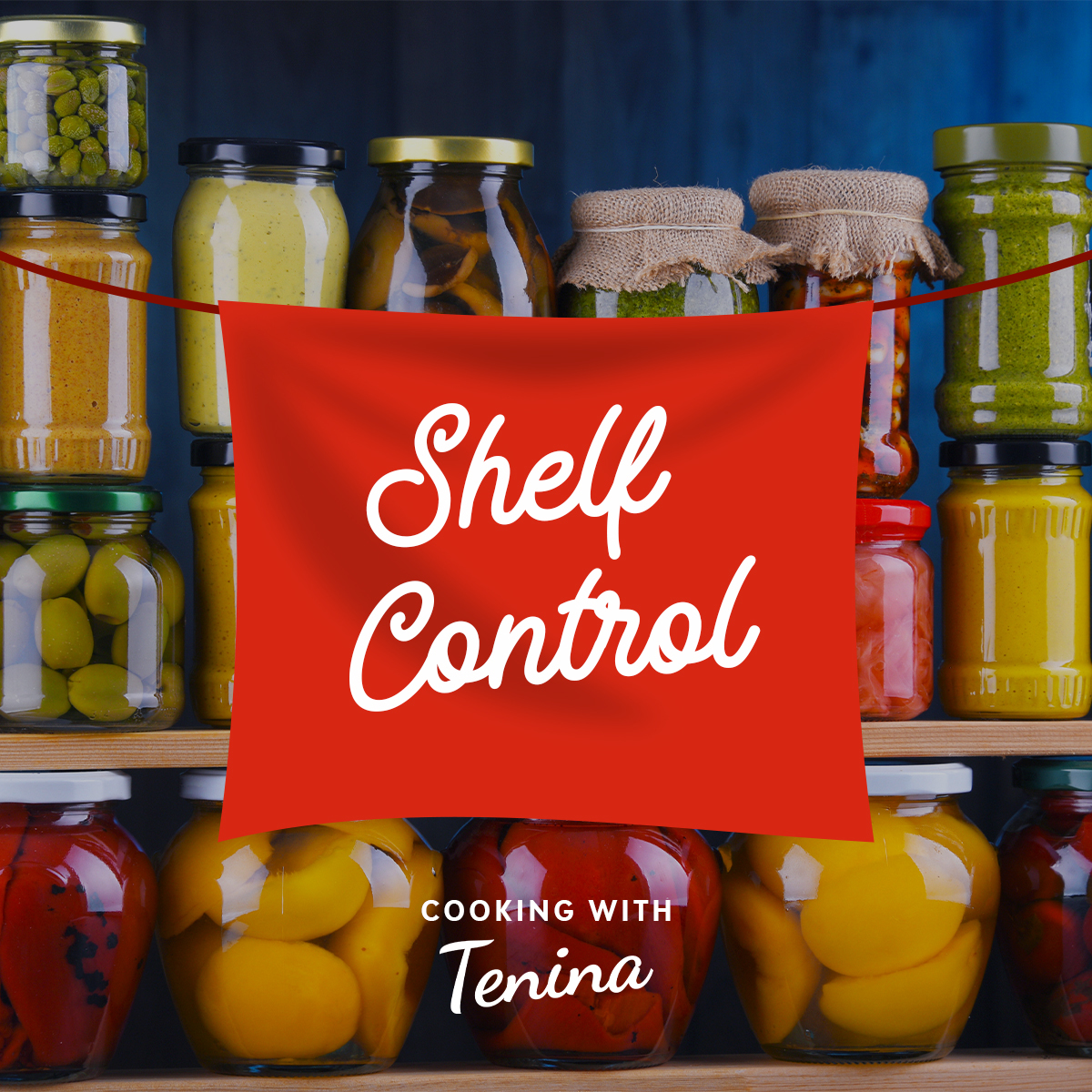 Clear the decks. Take everything out of your pantry and fridge, give it a hard look and decide what you can get rid of. Be ruthless. If you haven't used it in a year, get rid of it.
Keep what looks and smells good. 'Expiration, sell by' and 'best before' dates are not good guidelines. Some are determined by regulators, others by manufacturers, and most are arbitrary. Properly stored, some unopened ingredients, like canned fish, can last for years; others, like dried herbs, start declining in quality the moment they are sealed in a container. (Go get the Urbipod now and grow them fresh!) See the article linked below for more info.
Assess what remains. Then organise it according to the logic that makes sense to you: Your nut butters might be with the condiments, or the breakfast items, or the baking supplies. It is entirely up to how you organise your family life and meal prep.
Be ready to gain Shelf Control. We have divided this course into three sections, The Essential, The Expanded and the Expert. Take each section one at a time, or jump straight to expert, or just pick and choose from amongst the tasks. It is your kitchen, your plan. We know you will find plenty to be going on with here, but don't feel like you have to do everything in the specified weeks. You can really run this course as it suits you. Enjoy.
UPLOAD A SHELFIE to win. Over the next few weeks we are looking for some great shelfies to be posted on social media. Take a pic of your before/during/after shelf control shennanigans and upload it to social media. Make sure you tag me, (any social platform is going to be eligible) and use the hashtag #lovemyshelfie We cannot wait to pick some winners. (What will you win? There are three Shelf Control Kitchen packs to win over the next few weeks!)
The Essential Shelf Control
Week Two; The basics
The foundation layer for all types of cooks, this is where everyone should start. There's so much to be done with these basics. The rule here is stock your shelves mostly with what you're confident using, and what you love to eat. You'll use everything again and again. No waste! Shelf Control...you totally have this!
The Recipes
Week Two; The basics
Oils and vinegars: Extra-virgin olive oil, (EVOO) neutral cooking oil (such as sunflower or grapeseed), red-wine vinegar, or white-wine vinegar. We love apple cider vinegar (see the recipe for Apple Scrap Cider Vinegar and enjoy!)
Tins and jars: Tuna in olive oil, tomato paste, diced tomatoes, tomato sauce, chicken stock powder or good old veggie stock paste. A good-tasting, simple tomato sauce can become a soup or a stew, or make a quick dinner with pasta or polenta.
Spices and dried herbs: Pink salt flakes, red-chilli flakes, ground cayenne, curry powder, bay leaves, black peppercorns, smoked paprika, cinnamon sticks, ground cumin, granulated garlic, dried thyme and dried oregano. This selection will take you through everything from a beef stew to Saturday morning pancakes to Sunday pizza.
Grains and starches: Long-grain white rice, Risotto rice, one or two other grains (such as quinoa or farro), dried pasta (one long, one short and chunky), crackers, tinned or dried beans (white beans, black beans and-or chickpeas), dried lentils.
Nuts and nut butters: Walnuts, almonds, roasted peanuts, peanut butter (smooth and crunchy).
Sweeteners: Honey, maple syrup, raw sugar, coconut sugar.
Preserves and pickles: Fruit jams and preserves. Try some of our pickles, we have been enjoying creating some all new course recipes, scroll down for more!
Condiments and sauces: Basic vinaigrette, mayonnaise, ketchup, salsa, soy sauce, and my fave must have, Umami Paste. And if you are making Umami Paste, go ahead and make the most delicious Cafe de Umami Butter! Then if you're keen, ThermoMite or Thermomix Vegemite
Produce: Garlic, onions, all-purpose potatoes (such as Nadines), lemons.
Dairy: Eggs, butter, cheeses (Mature cheddar, mozzarella, Parmesan), whole milk and cream.
Freezer: Chicken pieces, sausages, thick fish fillets, prawns, thick-sliced bread, spinach (and other vegetables such as corn and peas), berries (and other fruit such as peaches and mango). Some fruits and vegetables take particularly well to freezing — and in most growing seasons, the quality is better than fresh. Frozen fruit is useful for baking and smoothies.
Baking: Bakers flour, polenta, rolled oats, cornflour/cornstarch, bicarb soda, baking powder, pure vanilla bean paste, light brown sugar, dark brown sugar, ten times sugar, dark milk chocolate, craisins or other dried fruit, cocoa powder. With these ingredients on hand, thousands of cookies, brownies, cakes, muffins, breads and other sweets can be produced without needing a trip to the supermarket.
Drinks: I imagine most of you have this area covered, but just in case; coffee, teas, Brew Choc and sparkling water would be a good start!

Make Apple Scrap Organic Vinegar
Make Chicken Stock Powder
Make Marinara Sauce
Make pasta
Make curry powder
Make your own crackers
Get crackered!
Are you Smooth or Crunchy?
Your own peanut butter
Make your own vegemite
Is raspberry jam your thing?
Or how about dried apricot preserves?
What is Umami??
Make the Umami Butter!
Mayo made easy!
Watch and learn!
Have you done this yet? SO fun!
Make your own sausages!
Vive la France!
Watch the brew brew!~
The Expanded Shelf Control
Week Three
For the cook who has a grasp of the basics, but wants to be able to stretch toward new options and flavours. Here, long-lasting, punchy ingredients like tahini, hoisin sauce, coconut milk, sherry vinegar and capers are stocked alongside classics: limes with lemons, jasmine rice as well as long-grain, almond butter in addition to peanut butter.
Expanded fridge fixings such as curry pastes, which are so easy to whip up into a quickie dinner when they are ready to go with no effort.
To your condiments and sauce repertoire, add homemade Worcestershire Sauce, Teriyaki Sauce, mustard. Plus fish sauce, anchovies, miso paste.
To your pantry add homemade Corn Chips, Black Tortilla Chips, Cake Flour, Powdered Malt, plus more!
To your fridge, add EVOO Fridge Dough, Hey Pesto!, pizza in an instant! Or explore making your own alternative milks, dairy free Banana Milk or Fresh Tomato Juice or Choc Milk Concentrate!
Make extra good Hoisin Sauce
All the nut milks are easy!
Try homemade Coconut Milk
Watch the videos!
Oat Mylk in a flash
Oat mylk in a flash! Watch it.
Join the IC for full recipes of ALL the alternative milks
Make dairy free, sugar free banana milk
Two ingredient Banana Milk
Kasoundi Paste
Make the Kasoundi paste, then make this classic!
How easy is this?
Did you know you can make your own?
Make the fresh tomato juice and then...
Use your Worcestershire
Use your Worcestershire again
Make Caesar Salad Dressing
Easy peasy Teriyaki Sauce.
Watch and learn!
Make this easy dinner
Save your cheese!
The Expert Shelf Controller
Week Four and beyond!
For the cook who likes taking global flavours, new methods and viral recipes for a spin. Here, the sauces get fancier, the chocolates darker and the cheeses funkier. These ingredients are just a fraction of what's out there, but by stocking them, you will be able to cook almost any recipe you come across and experiment with creating your own.
The Expert Shelf Controller
Week Four and beyond...
Oils and vinegars: Walnut oil, avocado oil, roasted sesame oil, pumpkin-seed oil, infused oils, rice wine vinegar, mirin, verjus, raspberry reduction, tarragon vinegar. These ingredients add subtle flavour variations on the themes of rich oil and tart vinegar: herbal and floral, sweet and fruity, smokey and earthy. Most are used for dressing or dipping, not for cooking.
This is a good point to mention doTERRA essential oils. I do love them for flavour and use them frequently throughout my recipes. If you wanted to add them to your pantry, it is a good idea to set up a wholesale account HERE so you get a handsome discount. I do sell a limited range of my absolute faves on my website HERE, but you are paying full retail plus postage.

Spices: Add your own spice mixes if you wish! Dinner in an instant. Moroccan Spice Mix, Cajun Spice Mix, Jerk Spice Mix, Japanese Garam Masala, Picante, Mexican Spice Mix to name a few options.

Nuts and nut/seed butters: Sunbutter with Hemp Hearts, Pistachio and White Chocolate Spread, Chocolate Hazelnut Spread (Notella) pine nuts, hazelnuts, pumpkin seeds (pepitas), pistachios. Toasted nuts like these are good in salads and granola, on roasted fish, or just with olives for a classic pre-dinner snack.
Preserves and pickles: Pickled jalapenos, cornichons, kimchi, preserved lemons, chilli jam, horseradish, caperberries, Ploughwoman's Pickle, Peach Relish, Quickie Veggie Pickles, Zucchini Pickles.
Drinks: Make a few of your own. We especially love the Ginger Ale, Ginger and Lime Cooler, Red Tamarillo Lemonade, and don't forget Fermented Cola
Preserve your herbs!
Watch the video
Garlic confit and garlic oil
Make infused oils
Make a vinegar reduction
Use the reduction for wha???
Make the spice mixes you love most!
Make the best Chilli Jam EVER!
Make your own kimchi
Make the pickle, then
the Ploughwoman's Lunch!
THE best dip you will ever taste
Make your own overnight pickles
Make the Shelf Control Pickle Salad
Make this amazing salad
Or these lunchy things
Make the Pistachio Nutella
Get the Notella happening
Watch the video
Make a seed butter.
Make Fermented Cola
Make Ginger Ale
Make a fruity Lemonade
Don't waste the pickle juice!
YOU DID IT
One last thing to consider;
You will always need some nonstick baking mats, a spatulahlah or two, definitely a nut milk bag, (or just get our Shelf Control Kitchen Pack) some baking paper perhaps, some ziploc bags, aluminum foil (I know this is controversial, but I love a catering grade foil for so many things) and some type of food covering, whether it be cling film or the more eco friendly silicone or beeswax wraps.

No more wondering "What's for breakfast lunch or dinner?" With Shelf Control, you won't have to wonder. Make cooking and meal planning easier and save money on groceries by spotting sales on your basics. Have everything you need on-hand with must-have essentials for stocking a pantry that help you savour mealtime with your family.
Congratulations, you deserve a medal...or at least a great pantry meal!