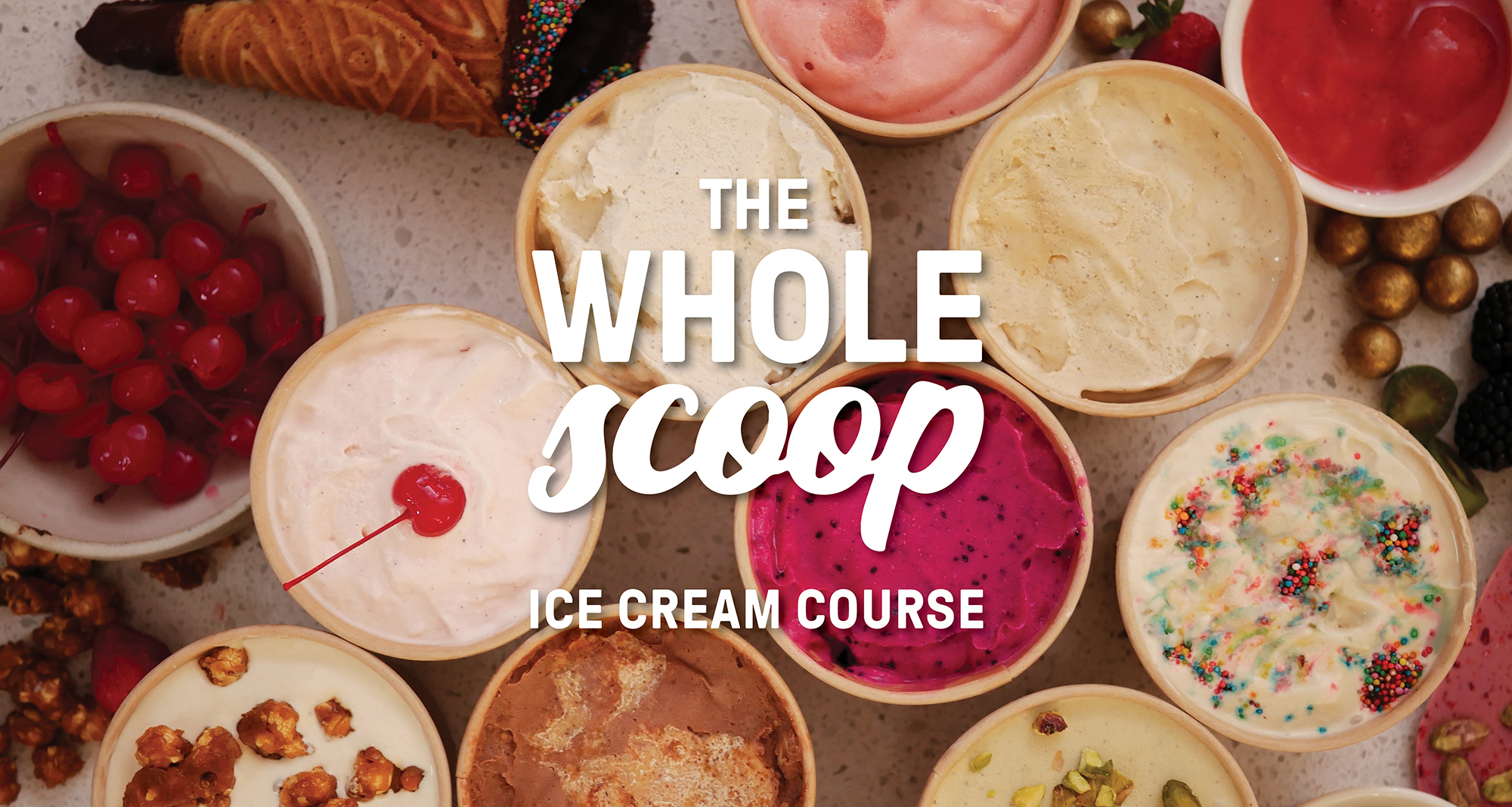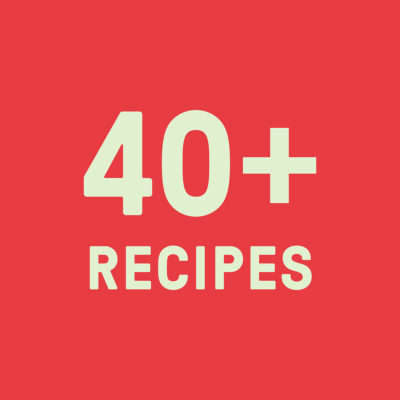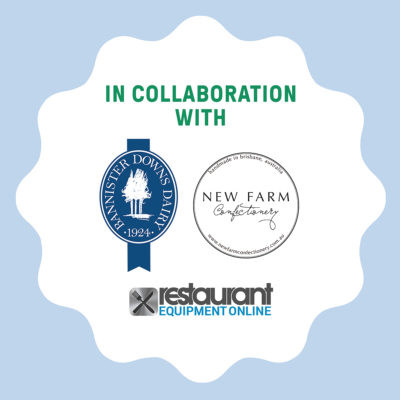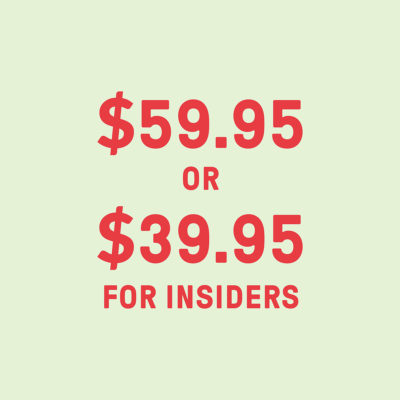 The Whole Scoop and nothing but the scoop is right here, ready and melting for the ice cream lovers in your life.

We have created an easy to follow course starting with ice cream bases where all good ice cream begins! Including meringue, French custard, egg free American style, keto, vegan and nut free, then moving on through to fantastic ways to add flavour and texture, churning tips and freezing tips. Apart from eating your amazing creations, there are literally limitless ways to use your new found creativity and frosty cleverness. We take you through sorbets, instant fruit ice creams, stunning frozen dessert creations, cones, cookies for ice cream sandwiches, frozen ice cream on sticks, toppings, sauces and generally everything you need to know to make you a legit icecream Queen.
We drill down on equipment, do you need a churner or not? (And we have an offer on two of the best churners in the biz!)
This course is designed to be self managed. You can jump in and out as you need. Make a few things, save some for later, come back for your favourites. You will learn everything you want to know about homemade ice cream making, for today and every day! Summer or not. (A day without ice cream is a day you will never get back!)
Did you know that New Zealanders actually eat more ice cream per capita than any other country in the world downing a massive 28.4 litres per person per annum? It's all that gorgeous cream they have! What's not to love?
Then the USA comes in at number two, (which you sort of expect right?) and are also huge ice cream consumers at nearly 20 litres per person per year.
Australia is right behind them with 18 litres per person and you will never believe who is nipping at our heels with 14 litres per person....is it a warm summery climate? No it isn't. None other than chilly Finland. Who would have picked it? With an average temperature in the 'warmer' southern parts of Finland between 5°C and 7.5°C this is a cold place but they still rank as number 4 in the ice cream eating stakes globally!
So for those of you who have been hiding your ice cream eating throughout winter, we invite you to join us year round. The Whole Scoop is ready and freezing!
Proudly brought to you in collaboration with Heilala Vanilla, New Farm Confectionery, Bannister Downs Dairy and Restaurant Equipment Online.
---
Get access to the The Whole Scoop course
Thanks for joining our Ice Cream course, The Whole Scoop. You have frozen chosen well.
We love ice cream, we actually have become ice cream snobs in the extreme in the last few months. No cheap or average ice cream for us ever again.
Making ice cream involves five simple steps, two of which are optional: preparing the mix, pre-chilling, aging (optional, but recommended), freezing, and hardening (optional, depending on how you make the ice cream). Modifying any of these steps will affect your outcome, but with some basic knowledge and the proper tools, the process is pretty hard to screw up. (Phew)!
Thus the course is divided into sections. You can jump around within all of the sections immediately without needing to proceed through stages if you like. All of the recipes are interchangeable and the use of an ice cream churner or not is entirely up to you, though we do have an offer for you from Restaurant Equipment. (See your ebook for details.) The idea of the course is to make you ice cream experts with any and all of your own flavours any time. Or you can just follow our timeless recipes and be enjoying your own brand of ice cream heaven within hours.
Read on for more details.
We start with bases. Any ice cream worth its salt starts with a great base. We have several options within the bases section; meringue, custard, instant, keto, vegan, egg free, nut free, sorbet etc. You will notice that these are vanilla bases. The fact is, if you cannot create a delicious ice cream base that is plain vanilla, (where there is no where to hide) then anything you add in will only be masking your original base flavour. Not ideal. Personally I love vanilla, but you know that. My vanilla of choice is ALWAYS Heilala with good reason. If you haven't tried it, this course is the best and only excuse you need to give it a whirl. You will find it hard to downgrade to another vanilla...just saying. Which brings me to sourcing.
Sourcing matters. If you are making ice cream, embrace. Use the best cream and milk from happy, hormone free, free roaming cows, and thus we recommend the delicious products from Bannister Downs. There is nothing better than fresh milk and cream for your ice cream. If you are going dairy free, go with organic coconut cream and milk or whatever cream and milk you end up using, pay for the best you can source.
Moving on we teach you about infusing which is such a great way to add loads of flavours to your ice cream bases without so much as having to think about it. You will start creating your own wild flavours, we are sure. We have several options all written up, and then we ask you to riff on those and come up with your own flavour combos.
Our next section is about inclusions; ie chocolate shards, fruits, toffee, spices etc. Much the same as with infusions, the options are limited only by your imagination and sometimes you will add an inclusion to an infusion. How is that for pro ice creamery! Plus we have a wonderful discount code for you to purchase some incredible ready made add ins from our friends at New Farm Confectionery. These are all artisanal made treats with fantastic ingredients that are better than anything we could reproduce for you. We have also gone wild and crazy with Sticky Date Pudding ice cream and Apple Pie ice cream. You are welcome.
We follow up with a very impressive section on desserts to make using ice creams. You will be the toast of any party with these table winners. The Ice Cream Eclair Pops are our favourites, though the Spumoni Cake...oh my!
Last but not least we have supplied a set of recipes that are useful with homemade ice cream such as sauces, ice cream wafers and cones, cookies for ice cream sandwiches and other things to add to your ice cream or serve it in. The Whole Scoop in fact. You will be ready to open your own Ice Cream Parlour when you have completed the course!
Welcome to The Whole Scoop
Welcome!
The Whole Scoop and Nothing but the Scoop
Before you begin
We suggest you watch our Intro and Equipment videos before you begin. You can also download the lists that accompany these videos if you wish to keep them for easy access. Welcome to The Whole Scoop!
Suggested Equipment list
Hints and Tips for all ice cream making
To Churn or Not To Churn
That is the question.
I personally LOVE my churner. I have had to keep the relationship with my churner quiet, so that the Thermomix doesn't know about it!
In the past I have owned several domestic churners some of which were just OK. For a long time I had the Cuisinart ice cream maker with a compressor. The more expensive version. This was pretty good for us, you could have ice cream in around 30 minutes if all the elements of the universe ran in your favour. Cold ice cream mix (base) the kitchen wasn't too hot, and you were patient enough to assemble it correctly.
I have also had a churner where you kept the churning bowl in the freezer and I don't love these. You will see the Kitchen Aid version of this in the video. They are not hugely cheaper and they lose their freezing capabilities within a fairly short window.
The more expensive commercial churners, the Musso (big tick from me) and the Apuro are widely used in small restaurants or cafe situations where they love to serve homemade ice cream and therefore they do small-ish quantities pretty efficiently. If you are an ice cream loving family, or if you have caught the ice cream making bug, these two are the only ones I would be considering.
When you remove the ice cream from the machine, it should look and feel like frozen yogurt—cold, but too soft to scoop. To "ripen" it into a hard ice cream texture, it still needs to be transferred to a container and put it in the freezer for at least a few hours. Some people prefer using small metal hotel pans or loaf pans; the metal helps the ice cream freeze quickly, and the rectangular shape makes it easy to layer mix-ins. I have demonstrated the options I used in the video. You can also press down some plastic film or baking paper right on top of the ice cream to prevent air from getting to it.
If you don't want to invest in an ice cream churner and I assume you probably already own a Thermo blender of some description as you are in this course. SO...on all the recipes that I can, I have written a Thermomix or high powered blender version. There are a lot of recipes that do not require a churner. These are quick and easy, as you may expect, but do not do so well once placed into the freezer. They generally need to be made and eaten on demand.
You will not get exactly the same results. But pretty good nonetheless.
Your discount for both churner options from Restaurant Equipment online is TENINA before checkout. This code will work across all of the Apuro and Musso branded ice cream churners and will give you a 5% discount on the current price even if discounted already.
The Churner Comparison
Make one or more ice cream bases
The Bases
When you prepare an ice cream base, there are a few simple principles to keep in mind:
Adding more fat in the form of cream will make your ice cream richer. Add too much fat, and it will have a slick mouthfeel and can harden completely in your freezer. High fat slows flavour release, making for a long, lingering flavour, while lean ice cream has a crisp, bursting flavour that doesn't linger as long.
Adding more sugar will improve flavour (to a point) and soften the final product. Add too much, and your ice cream could be sickly or runny, or it won't freeze at all.
Milk will make your ice cream icier and harder because milk is made up mostly of water, which will freeze into ice crystals. In moderation, milk is very important to the molecular makeup of your frozen treat (and it will help to reduce the richness added by cream), but it is possible to overdo it. Having said that we have created an Ice Milk recipe which is entirely milk without cream. We loved it. But we did use a thickener to add to the texture.
Eggs will make your ice cream dense (by adding solids that thicken the mix), custardy (eggs will, of course, add egg flavour), and smooth. Ice cream made with eggs is much less likely to be coarse or icy because the proteins in the eggs help control ice crystal growth. The hotter you cook the eggs, the more "eggy" flavour you'll get in the final product—French ice creams tend to include a high ratio of eggs that are cooked at high temperatures before the base is chilled and churned.
Your first task, should you choose to accept it;
To create a smooth and creamy ice cream base, be it vegan, meringue, nut free, egg free, keto or otherwise. The trick to a great ice cream base is that it stands alone as a vanilla flavoured option. With a vanilla flavoured ice cream, there is literally nowhere to hide. So if it is delicious as vanilla, it will certainly be delicious when made into chocolate, fruit, caramel, coffee, etc.
All of these recipe versions are interchangeable with other creams and milks or even yoghurt, replacing the cows milk and cream. Be warned though, the textures will vary depending on how much water ends up in the milks you use.
We don't insist you HAVE to have an ice cream churner, but we do highly recommend it. You will have much more success across (nearly) all of these recipes with a churner. Please check out your discount from Restaurant Equipment if you are thinking of getting a commercial grade churner.
Meringue Base (or Killer Vanilla)
Watch the Meringue base video
Vegan Meringue Base
Watch the Vegan Killer Vanilla base
Keto Vanilla Meringue Base
French Vanilla Custard Base
Watch how easy the French Vanilla base is
EVOO Ice Cream Base
So this is the chocolate version, but the base is still the same as the EVOO ice cream!
Sticky Rice Ice Cream
Sticky Rice never looked so frozen!
Fruit Sorbet base recipe
If one sorbet flavour is good, two is better!
American Style, or Philadelphia style ice cream.
Why is it called American style? Or is it?
Avocado Coconut Ice Cream
The Instant Recipes
These recipes are quicker to make than the time it takes to eat them!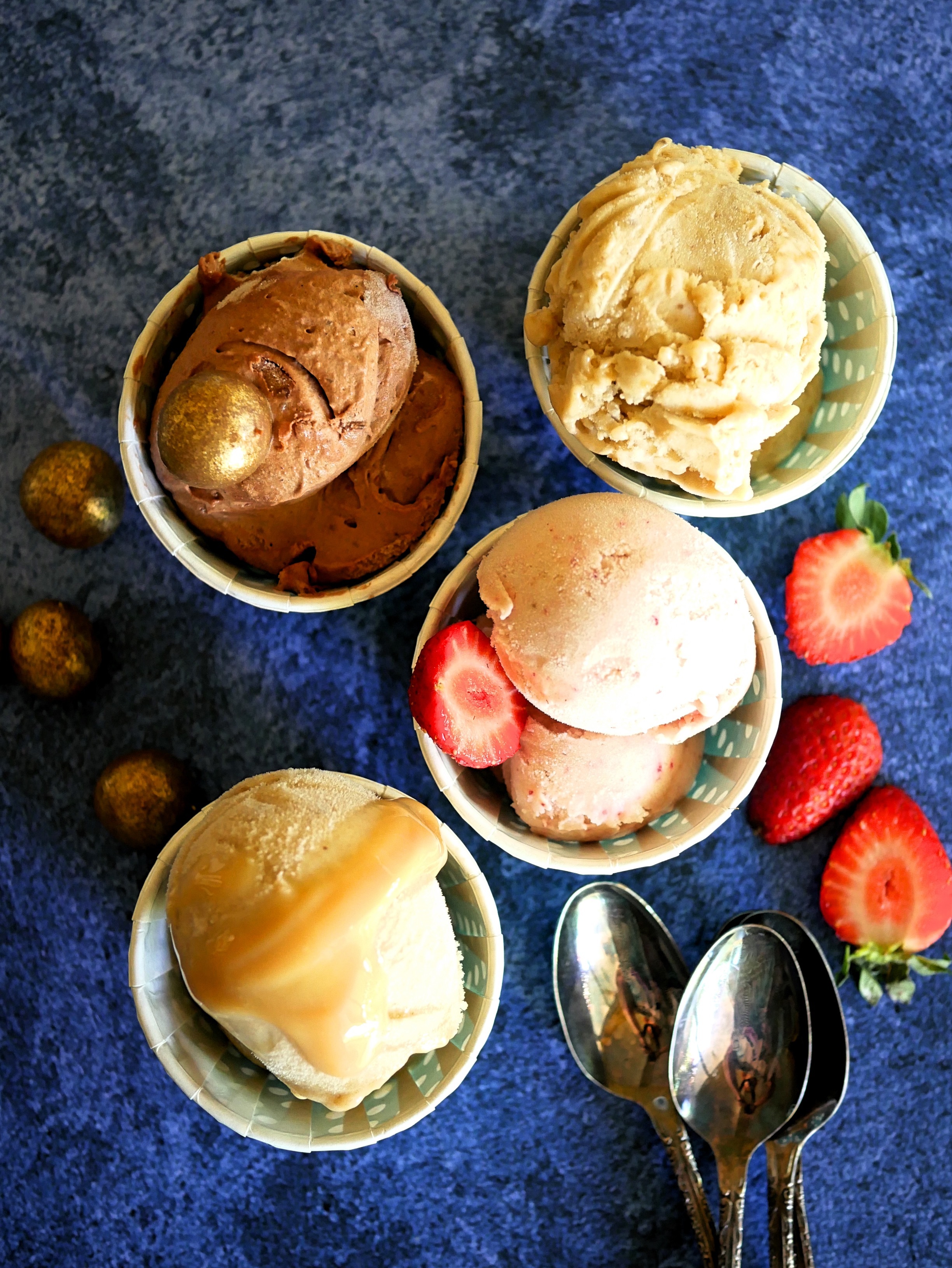 The following recipes are probably a little more traditional to Thermomix users than not. With a little freezing forethought, these recipes can be served immediately after making them. The kids will love this section!
The Instant Ice cream range!
Four in one! In ten seconds!
Instant Fruit Ice Cream.
Can you make ice cream in seconds? YES!
Churn? Or Don't churn? All delicious.
Chocolate EVOO ice cream recipe
Watch the video!
Passionfruit Sorbet, instantly!
The Granitas! So many options.
The Infusions
Make one or more infusion ice creams!
To create some flavours using our suggestions for infusions. You can choose any base unless specified otherwise.
Dairy carries flavour well and acts like a blank canvas, so use your imagination and local ingredients to inspire you—whether that means incorporating a flavour from your culture that you've been missing or using strawberries and mint from your garden. Just be cautious of adding watery ingredients to your base, which can lead to larger crystal formation. I always cook my fruit when adding to ice cream, sometimes in alcohol, or just on its own. Again, it is best not to add too much liquid. It always results in ice crystals which ruin the texture of your ice cream.
Popcorn Ice cream? THE BEST!
Caramel Popcorn Ice Cream video
Cereal Milk Ice Cream recipe.
Watch the nostalgia!
Watch the video for the Truffle Ice Cream
Lemon Ice Milk
Bubblegum Ice Cream
Liquorice Ice Cream
What are inclusions and do I need to make them?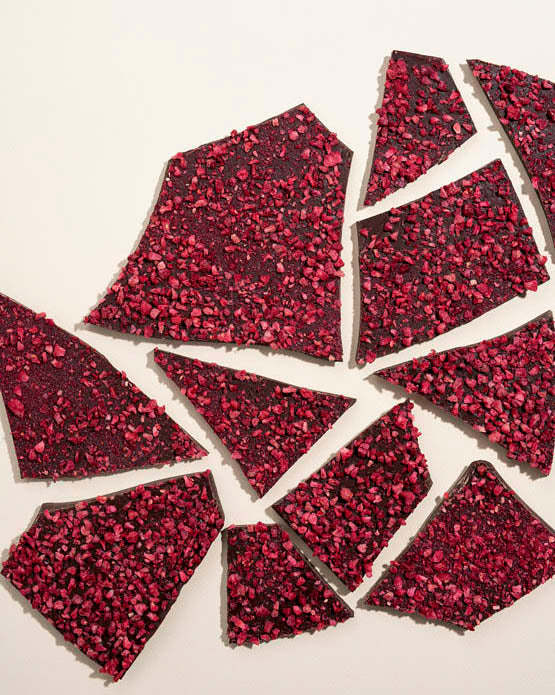 Inclusions or mix ins or even sometimes referred to as add ins, are the fun part of making your own ice cream. We are delighted to have an offer for you from New Farm Confectionery for all of you inclusion needs...
Visit their online store and stock up, use the code TENINA15 to get 15% off your shopping basket. This is a permanent offer.
What are inclusions?
Watch what we do with Sticky Rice Ice Cream and Lime Coconut Chips!
Infusions and Inclusions in this one!
The Inclusions!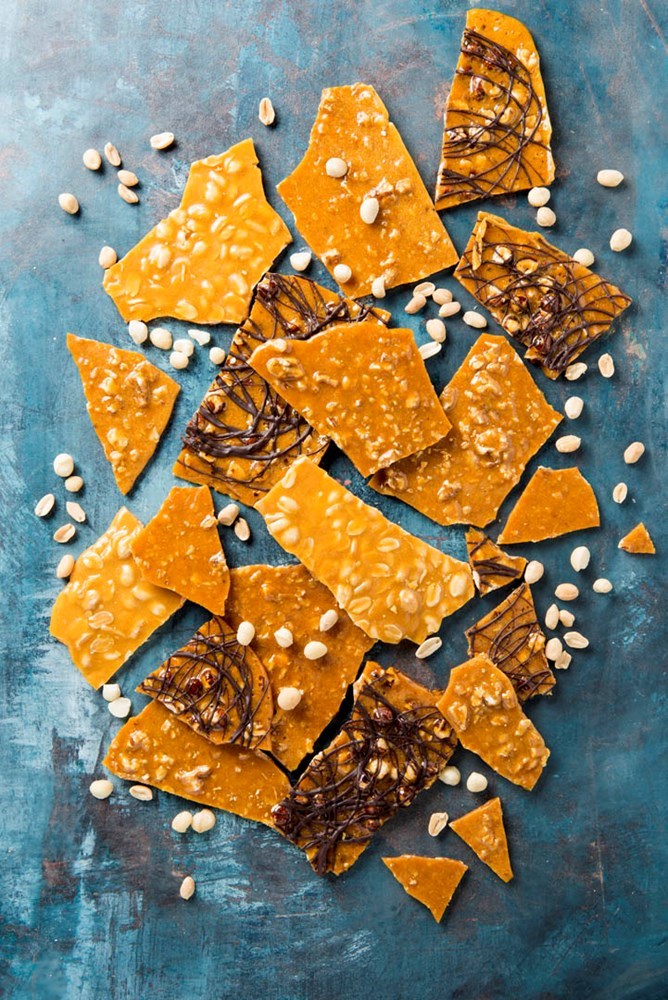 Whether you're adding cookie crumbles or a fruit swirl, be sure to do it when the ice cream is nearly finished churning so your mix-ins don't get soggy or sink to the bottom. If there's space, you can add mix-ins directly to the machine and let the dasher (the paddle that turns inside the bowl) stir them in. Alternatively, gently layer them in by hand as you transfer the ice cream to a storage container.
There are two main types of mix-ins (or as us pros call them, inclusions): solid or saucy. They differ in texture, and you should use different methods to add them to your base.
The solids or 'pieces', in the ice cream world, can include nuts, cookies, toffee, popcorn, sprinkles, fruit, chocolate, or cake bits. You should only add these when the ice cream is basically done. You need to let the churner do the work, literally for the last 30 seconds of churning. If adding in by hand, you need to be careful to use a folding motion as this will keep the air in the mix which you have been churning in!
The saucy add ins, also called variegates, include fudges, caramels, or fruit purees that you can layer into your base. It is a good idea to put these into a sauce bottle and squeeze it into the base also at the end of churning.
The one important take away from this section is that you add in only cold things. Ice cold preferably. Especially if you have a domestic ice cream churner. They are not built to freeze warm or room temperature mixes. So the colder the better when it comes to everything you are putting into your ice cream recipe.
We hope you will check out the amazing range of potential ice cream inclusions from New Farm Confectionery and don't forget to use your exclusive discount code, TENINA15 any time!
Butter Crunch Toffee with Nuts.
TM6 Honeycomb bark with macadamias
Make Lime Coconut Butter Chips
Salted Caramel Corn.
Classic Sticky Date Pudding.
Sticky Date Pudding Caramel Ice Cream
Watch the video
Apple Pie Ice Cream
Apple pie IN ice cream!
Choc Peanut Butter Ice Cream
The trick to peanut butter as an inclusion!
Choc Mint Killer Vanilla
Watch the Choc Mint Video (its an oldie!)
Pistachio Praline Paste
Pistachio Praline Paste the video!
Check out these AMAZING dessert ideas to impress without stress!
Well you have mastered all the ice cream recipes you can ever eat! Now what?
We think you will love some of these special occasion recipes to really take your ice creamery to the next level. Some of these recipes are a little trickier than others, but you can do it! Watch the accompanying videos and voila!
Ice Cream Queen....or King as the case may be.
Tropical Coconut Ice Cream Cups
Watch how easy they are.
Ice Cream Eclair Pops.
How easy are they? Very.
Spumoni Ice Cream Cake.
The CAKE!
The Maraschino Ice Cream video
Make Pistachio Praline Ice Cream
Watch the Pistachio Praline Ice Cream
Ice Cream Eton Mess.
How simple yet amazing!
Raspberry Pistachio Ruby Pops.
Frozen Grasshopper Pie.
The Sprinkles, Drizzles, Crunches!
Here are a few recipes that will take your ice cream game to the next level.
Choose from waffle cones, cookies for ice cream sandwiches, toppings, sprinkles. The sky is the limit. And you can make them all!
WE LOVE THIS! So will you!
Make Raspberry Coulis
Watch the video
Love your Ice Magic?
How easy is it? No recipe required!
Make your own cones and bowls
Easy as mixing up batter!
Marshmallow sauce
The Salted Caramel of course!
Where is the hot fudge? Here!
Chewy Oatmeal Cookies
Easy as Ice Cream Sandwiches
Notes on homemade ice cream!
Keeping it fresh!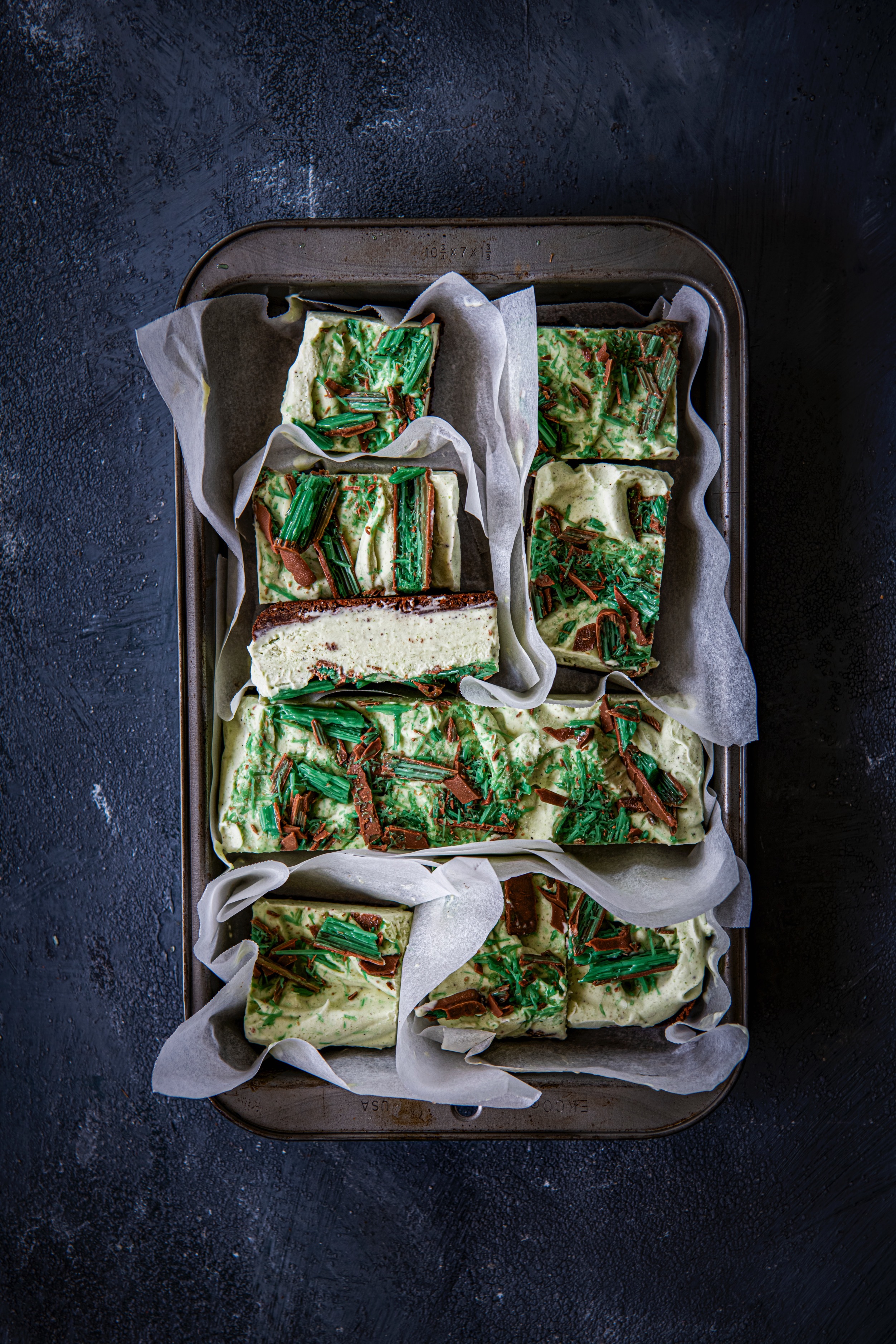 If you've ever mined a six-month-old litre of ice cream from the depths of your home freezer, you will know it is probably fairly inedible and not very pleasant to serve or eat. Ice cream stored in a busy home kitchen will coarsen over time, developing large ice crystals that ruin the smooth, creamy texture that's so important in frozen desserts.
Here's why: As you fill up and empty your freezer or open and close the door, the fine ice crystals originally formed in the ice cream begin to melt and then refreeze into a smaller number of larger crystals. The result is a field of ever-fewer, ever-larger ice crystals that make up the body of the ice cream, giving it that unpleasantly coarse and crispy texture.
My best advice is freeze quickly. Churn when possible or necessary to get a better mouth feel. Make sure there is room in your freezer if you intend on making ice cream, so that the cold air can circulate around the container.
Push either a piece of cling wrap or baking paper right down onto the surface of the ice cream before sealing the container. This will help eliminate freezer burn, and any funky flavours that may be lurking in your freezer from being taken on by the ice cream. No one like Dad's bait ice cream with a hint of vanilla. Just saying.
I generally recommend eating within two weeks, though throughout this course I have had ice cream and sorbet in my freezer for much longer than that and we are still chipping through it, a scoop at a time. It really depends on your freezer.
Adding a splash of alcohol or EVOO will help the ice cream scoop more easily, just be cautious with how much and make sure the alcohol flavour will work well with your base flavour.