This delicious vegetarian bean chilli topped with cornbread dumplings is cheap, cheerful and full of yum.
Let me be clear, anything with dumplings gets my vote. I think I've actually used semantic licence calling this cornbread crust "dumplings" but whatever you want to call them, they taste delicious. It's not the first time I've got confused over food names that get lost in translation… Remember that Beef Stew with Muffin Top?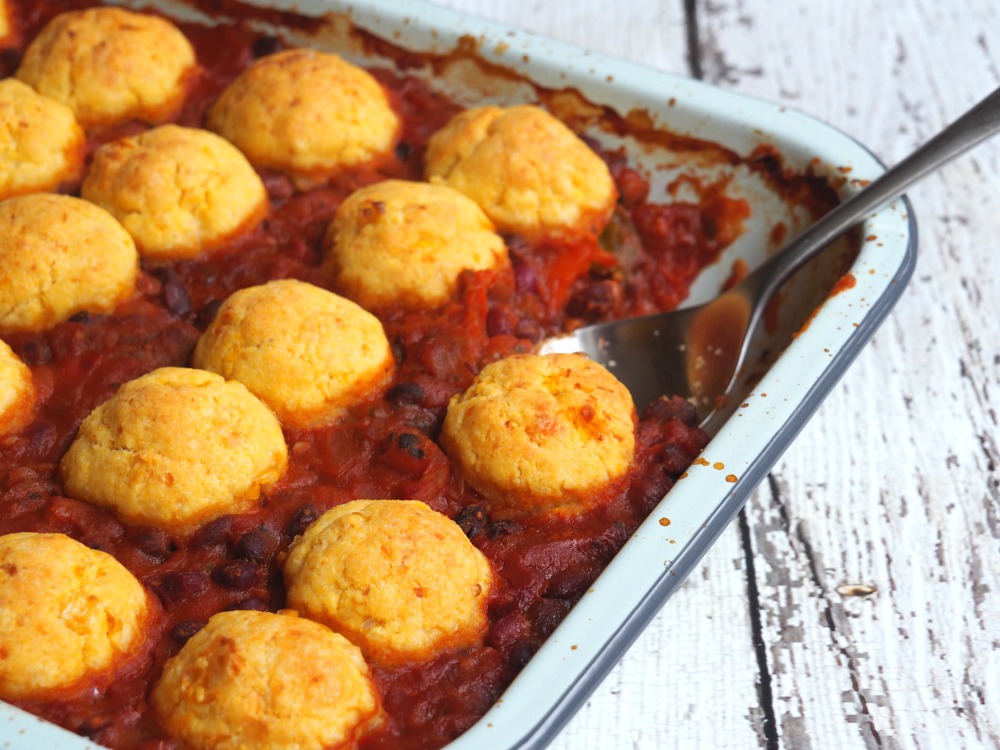 I'm a big fan of bean chillis because beans are nutritionally dense and budget friendly and I've covered all my beany bases with my Smoky Bean Chilli, this Slow Cooker Mixed Bean Chilli and this Black Bean Chilli. But this is the first time I've topped my chilli off with dumplings. These cornbread dumplings are super easy and very forgiving and turn this dish into a one pan wonder! I like to think of this is as a kind of veggie pie but instead of a pastry top, there's some delicious cornbread. It's seriously good.
For loads more amazing recipes, head over to Sam's site The Annoyed Thyroid. Plus check all her socials. She is a busy girl!!
We invite you to come join our FREE TRIAL on the Insider Club to have extra Thermomixery each and every month! #recipesthatwork #youcandoit
Are you on Instagram, Facebook, Pinterest? Never miss another thing in the test kitchen when you follow us.
Please join our mailing list HERE to have recipe updates delivered to your inbox weekly and don't forget we are on YouTube.
Our newest (FREE to Insiders) course Shelf Control sort out your pantry and fridge and is ready for your shelfies now! We have an amazing Lazy Sourdough Bakery course available to do at your own pace online. Our delicious course, The Whole Scoop Ice Cream course is churning now!
Need
Chilli

1 Tablespoon Extra Virgin Olive Oil (EVOO) BUY
1 large brown onion, finely chopped
3 cloves garlic
1 green capsicum/pepper, diced
3-4 Teaspoons Mexican spice blend (Herbies have a great one)
1 Teaspoon ground cumin
375 Milliliters liquid veggie stock
2 x 400 Grams diced tomatoes
400 Grams tinned pinto beans
400 gram Tins black beans
400 Grams tinned borlotti beans
400 Grams tinned kidney beans
3 Tablespoons tomato paste
Generous Handfuls coriander leaves, finely chopped

Cornbread Dumplings

110 Grams self raising flour
125 Grams yellow polenta
1 large egg, beaten lightly
40 Grams cheddar, cubed
60 Grams corn kernels, cut from the cob or equivalent frozen
2 Tablespoons milk or more if needed
Do
1

Heat oil in a large saucepan and fry onion, garlic and capsicum until onions softens. Add Mexican spice and cumin and cook, stirring until fragrant.

2

Add undrained tomatoes, stock, beans and tomato paste and bring to the boil.

3

Reduce heat and simmer, uncovered for about 15-20 minutes until the sauce has thickened slightly.

4

Stir in the coriander and season to taste.

5

Meanwhile, preheat the oven to 200°C.

6

To make the dumplings; Place polenta flour and butter in the Thermomix bowl and mix 5 sec/speed 6 until breadcrumbs. Add rest of ingredients and mix on 5 sec/Reverse/speed 4.

7

Spoon the bean mixture into a 2 litre pie dish and drop level tablespoons of corn mixture on top of the chilli. Bake uncovered, for about 20 minutes or until the cornbread dumplings are golden brown.