I couldn't help it, I just had to join Food Blogga's Christmas Cookie Round up...who could resist? Cookie recipes from all over the world, just waiting for a sweet tooth like me to happen along! SO thanks to Food Blogga and should you wish to participate, please check this out.
I'm not going to lie to you, these require patience, but here's my Aussie salute to a Northern Winter...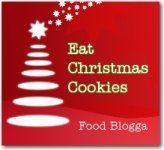 Basler who? Basler Brunsli is Chocolate Almond...in this case cookies (which happen to be two of my fave ingredients and of course, biscuits, OR cookies to the Americans, are always welcome). All Aussies will know that Jaffa is a Chocolate Orange combo, so I could call these Jaffa Brunsli and be perfectly cross globally correct! Australia meets Sweden at Christmas time! Well, anyway, here they are, delicious, appropriate for gifting, fragrant, Christmassy and I think almost the last in my Twelve Recipes of Christmas series, which still tragically lacks a real meal! But hey...there's still over a week to go! It's never over until the fat lady sings, and I ain't singing!
Are you following me on Facebook, Instagram, Pinterest and Twitter?
Thanks for reading and please subscribe to have each update delivered to your inbox weekly.
Or better yet, come join us on the Insider Club to have extra Thermomixery each and every month!
Need
4 egg whites
Pinches cream of tartar
2 Teaspoons orange juice
2 Teaspoons orange zest
50 Grams dutch processed
200 Grams sugar
Pinches salt
50 Grams plain flour
Cornflour for rolling
Do
1

Place egg whites and cream of tartar into clean, dry Thermomix bowl and with Butterfly in place whip for 3 minutes at 50oC on speed 3.

2

Set aside in separate bowl. Remove Butterfly.

3

Place almonds and orange zest into Thermomix bowl and mill for 10 seconds on speed 9.

4

Add cocoa, sugar, salt and flour and mill for a further 10 seconds on speed 9.

5

Add egg whites to flour mix and process for 30 seconds on Interval Setting. Set aside in same bowl as before.

6

Place chocolate into Thermomix bowl and chop for 5 seconds on speed 8.

7

Melt for 2 minutes at 37oC on speed 2.

8

Add almond, egg mix and again mix for 10-15 seconds on Interval speed. You may need to use the spatula to assist as the mix becomes quite sticky and dense.

9

Add the 2 teaspoons orange juice through hole in lid.

10

Scrape onto Silpat (silicone mat) and leave in the fridge for 1/2-1 hour.

11

Roll out between 2 sheets of corn floured baking paper as thin as you can (around .5 cm) and cut into rounds with your MC or round scone cutter. (You can use shapes, but 'round' is the new 'heart' and they look so classy when stacked and wrapped).

12

Place onto baking trays and cook for 6 minutes at 200oC.

13

They should be crisp on the outside and chewy in the middle, though the thinner the dough, the less chew factor!

14

Cool and store in airtight container...though frankly the likelihood of these lasting past two days in my house is remote! Delish and my whole house smells divine!